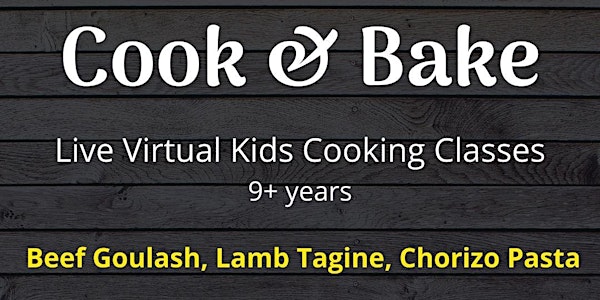 Kids Online Cooking Class - Beef Goulash, Pasta Chorizo, Lamb Tagine
Over 3 Mondays we'll make 3 delicious family meals. Your child will be Head Chef, the parents/minders are the Commis Chefs!
About this event
▶️ The idea is that your child becomes the Head Chef while the parents/minders are the Commis Chefs! However, if your child isn't interested or you don't have one and would like to join, then please do, the more the merrier. The age group is 9+ years! 😃😃😃
▶️ Over 3 Mondays we'll make 3 truly delicious family meals - Beef Goulash, Lamb Tagine & Choritzo Pasta. 👏💪👏
▶️ January 18th, 25th & Feb 1st @ 5.15pm . Approximately 1½ hours but some days it may be a little longer depending on what we are cooking!
▶️ Parents report their kids are more likely to eat what they cook! Win-win! 🥔🍆🍅🥒
▶️ Learn new family meals & ideas from your own home.
▶️ Great way to bond with your child while making a family meal. 💞
▶️ Adult Supervision is required, the amount of supervision depends on each child and you know your child best so please ensure they are supervised accordingly!
Emily Lavelle is passionate about teaching young adults & children cooking and baking skills so they can nourish their bodies for life. Clear instructions, demonstrations & support will be given during the Live Virtual Classes to ensure your childs cooking & baking is successful. Ingredients lists & Zoom details will be sent after sign up. Emily has taught countless children to cook & bake classes in her Live Virtual Classes. Check our her instagram account for all the delicious foods they made.