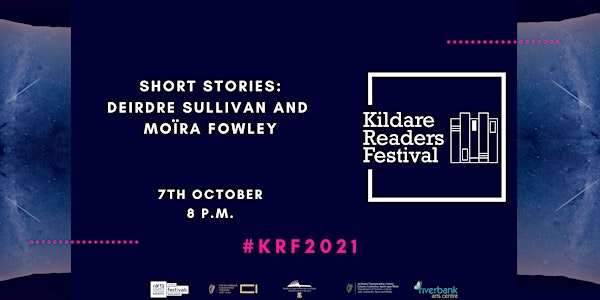 Kildare Readers Festival:Deirdre Sullivan in conversation with Moïra Fowley
Deirdre O'Sullivan in conversation with Moïra Fowley
About this event
Join author Deirdre Sullivan on Zoom as she discusses her new collection of short stories 'I Want To Know That I Will be Okay' with fellow author Moïra Fowley. In this dark, glittering collection of short stories, Deirdre Sullivan explores the trauma and power that reside in women's bodies. With empathy and invention, Sullivan effortlessly blends genres in stories that are by turns strange and exquisite.
Deirdre Sullivan is a writer and teacher from Galway. She has written seven acclaimed books for young adults, including Savage Her Reply (Little Island 2020), Perfectly Preventable Deaths (Hot Key Books 2019), and Tangleweed and Brine (Little Island 2017). She is a recipient of the CBI Book of the Year Award and An Post Irish Book Award for YA. Her short fiction has appeared in Banshee and The Dublin Review. I Want to Know That I Will Be Okay is her first book for adults.
Moïra Fowley is the author of three critically acclaimed YA novels – The Accident Season (2015), Spellbook of the Lost and Found (2017), and All the Bad Apples (2019) – and a part time witch. She is half-French and half-Irish and lives in Dublin where she writes queer magic realism, reads tarot cards and raises witch babies.