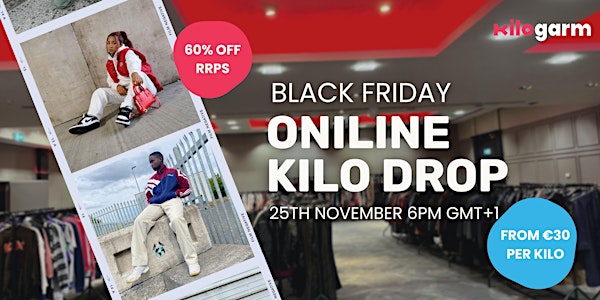 KILOGARM ONLINE KILO STORE BLACK FRIDAY DROP
This is an exciting online event for vintage lovers and kilo sale enthusiasts. All items are sold at a kilo discount. 60% Discount. Join us
About this event
Buy all your favourite preloved clothing from the comfort of your house all at kilo prices. All items will be priced by weight at either €25, €30, €35 or €40 per Kilo, from €5 tees to €12 jackets. All items are shipped worldwide from our Ireland warehouse via DPD/AnPost.
How does it work?
Our online Kilo Sale allows you to shop thousands of vintage & preloved items from the 60s-00s online.
Your ticket gives you access to our online kilo sale page and an exclusive reminder.
For easy shopping, you can filter by brand, product type, size, colour, and price, and add to your basket as you wish. You can check out as a guest, or create an account to save time on your next shop.
FAQs
Is an online kilo sale really worth it? While an online kilo sale price is dearer than a live kilo sale event because of all the staffing and admin cost involved in running an online sale, the sale prices are still up to 70% cheaper than what you will normally pay at recommended retail price. Making the sale worth it, plus you can shop from the comfort of your bed without any rummaging.
What will be on sale? Everything preloved and vintage. Shirts, Shorts, Polo T-shirts and branded T-shirts, Jackets , Jumpers, Cardigan, Sweatshirts, Trousers, Branded Track Bottoms, Dresses and much more! At our last drop, one lovely customer picked up a blouse that retails for €200 for only €6 😳 You really never know what you can find except you join in.
When will I receive my order? It takes us on average 3 days to process all orders from the day it was placed, but due to the volume of orders we process, it may take slightly longer. Please bear with us and we promise the wait will be worth the bargain.
Is the online sale open worldwide? Yes our online sale is open to all customers, giving anyone access to the sale regardless of location. Please take note of your location time zone and set your reminder accordingly.
How much is shipping? All Irish orders regardless of weight is €5.99. International shipping starts from €5.99 depending on weight and region.
Will everything on your website be on sale on the day? No, only items in our kilo sale section will be sold at Kilo Price. Our online kilo sale is exclusive and will only be available for the sale weekend, once it's gone it's really gone. You can still shop our regular inventory which are priced at their full retail price.
What can I get for a kilo? That depends on weight and taste. You can walk away with an outfit for a kilo but don't worry you don't have to get a full kilo. If you find a blouse for €4 and that all you want, it's all yours. Cart it and checkout, simples!
Why is an online kilo sale more expensive? We have to hire extra hands and tools to process, organise, weigh, size, tag, log, prepare, photograph, upload, package and ship each item, this come at a higher overhead and staffing cost to us in comparison to a physical sale event where you can walk in, try each item in person and checkout. We are doing our best to weather the covid storm, while still serving you unique and sustainable style, however we advice all our customers to shop responsibly and only buy what they deem reasonable. Buy only what you want and nab a bargain!