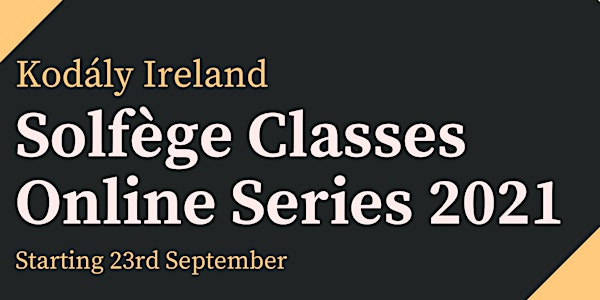 Kodály Ireland Solfège Classes Autumn 2021
Kodály Ireland Solfège class series at level 2.
Refund Policy
Contact the organiser to request a refund.
About this event
Due to expressed interest from our members and followers, we are delighted to present this wonderful 10-week online Solfège course.
Course Details
The aim of this course is to develop each participant's sense of musicianship and to develop musicianship skills such as ear training and the ability to sight-read, all while developing a solid understanding of music theory. Though we normally provide in-person classes, some of the more commonly asked questions about our classes remain very relevant in the online context and are answered on our website:
https://www.kodaly.ie/solfegeclasses
Course dates
Start: Thursday 23rd September 2021
Midterm break (no class): 28th October 2021
Finish: 2nd December 2021
Weekly class timetable
Thursdays 7pm to 8pm
Level descriptors**
Level 2: For those who have some experience with music reading and understanding. If you have previously taken introductory Solfège classes and want to develop your skills, this is the place for you. Some familiarity with relative solfa is an advantage here, but not necessary.
**Classes will run subject to enrollment. Spaces are limited.
Membership
If you would like to join Kodály Ireland as a member (€30/calendar year), please see our website for details:
https://www.kodaly.ie/membership
Refund policy
Please note that refunds will only be given in cases where cancellation is made before 4pm on Thursday 16th September 2021. In this case, the full fee less an administration fee of €50 will be refunded via bank transfer. Cancellations made after 4pm on Thursday 16th September will not be refunded.