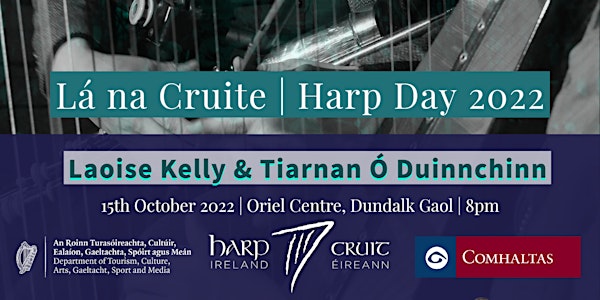 Lá na Cruite Concert- Laoise Kelly (harp)/Tiernan Ó Duinnchinn (pipes)
Celebrating Harp Day - featuring TG4 Graham Cheoil Recipient Laoise Kelly on harp and Monaghan Uilleann Piper Tiernan Ó Duinnchinn.
When and where
Location
Oriel Centre, Dundalk Gaol St. Dominics Place Carrickmacross Rd Dundalk
About this event
Laoise Kelly & Tiarnan Ó Duinnchinn are a rare duet of Irish Harp and Uilleann Pipes. From Mayo and Monaghan respectively, they are leading, influential exponents of their instruments. Their acclaimed album 'Ar Lorg na Laochra' | 'On the Shoulders of Giants' pays homage to the source of their repertoire, encompassing many of the various tune and song air types to be found in 17th-19th century manuscripts from different parts of Ireland.
The duo have performed together for many years and have recorded and collaborated with many renowned Irish and International musicians from Moya Brennan to the Chieftains.
Both of their instruments are complete solo instruments, carrying the melody and harmonic accompaniment. The chordal, contrapuntal and percussive possibilities of the left hand of the Harp, and the regulators on the Uilleann Pipes are myriad. Although in the case of this duo 'The whole is greater than the sum of its parts'.
'Laoise Kelly and Tiarnán Ó Duinnchinn harper and piper respectively have achieved levels of excellence and mastery realised by only a very few musicians. They are regarded by many in the same light as the giants they invoke on the album title... Humour, gaiety, mischief and sorrow weave in and out of the musical narrative.' – Nuala O'Connor
'Despite their individual brilliance these musicians pay tribute to previous generations in their duo recording Ar Lorg na Laochra.' - The Living Tradition
"Her right hand fires out tunes with a fluidity, creativity and clarity that has revolutionised the harp as a solo instrument; her left hand is the source of a new voice in the world of accompaniment and groove, ... Laoise has made it OK for a harp to sit in the centre of the session and be the heart of the trad band headlining the festival." – Niall Keegan, Irish World Academy, UL.
"Laoise Kelly is a young harpist with the disposition of an iconoclast and the talent and technique of a virtuoso." Irish Times
'Ó Duinnchinn's precise articulate playing quickly explains his many awards. His mastery of the pipes is without question and leaves no doubt about the subtleties of his musical inventiveness.' - Journal of Music
'Ó Duinnchinn's uilleann piping is a marvel of invention, his deftness on regulators provides contrapuntal accents and complementary coloration to his chanter playing. His chanter work is both precise and hard-charging building expertly in intensity from smolder to blaze. He is a superb player.' - Earle Hitchner Irish Echo
This concert is funded by the Dept. of Tourism, Culture, Arts, Gaeltacht, Sport and Media, and supported by Louth County Council through the Local Live Performance Scheme 2022