Location
Ireland
59 Richmond Street
Dublin
Ireland
Tour Ireland with Us. Let's go for trip: baecation, vacation, self love(solo travel), trips, tour, fun, ... Let's tour the land.
About this event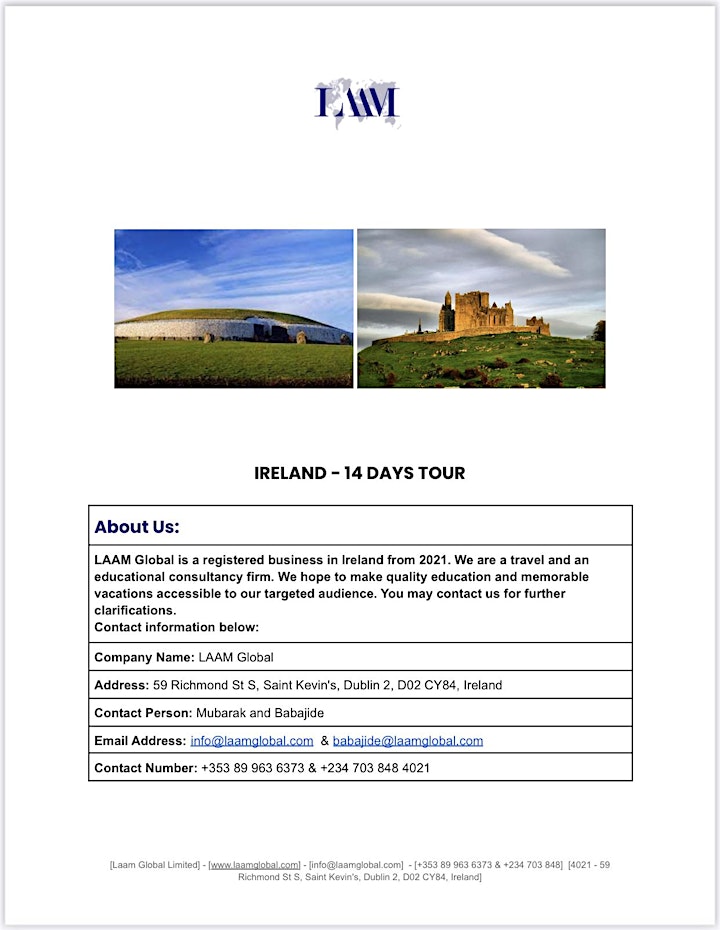 Details:
Let's have adventurous fun as we tour the country of Ireland.
Day 1:
We will spend the first two days of the event in Dublin city. On the first day of arrival, tourists may relax in their accommodation provided by us or go on a hop on the bus to enjoy the beautiful scenery of Dublin City.
Day 2:
On the second day, we will visit museums and galleries in Dublin City.
First, we'll visit The Seamus Heaney gallery, a gallery in the legacy of Poet and Nobel Prize Winner, Seamus Heaney. Seamus Heaney was born at Mossbawn and lived in Dublin from 1976 until his death. His publications include Death of a Naturalist (1966), Door into the Dark (1969), The Haw Lantern (1987), and The Spirit Level (1996). His modern translation of the Anglo-Saxon poem, Beowulf, won him a second Whitbread Book of the Year Prize in 2000. Heaney held the chair of Professor of Poetry at Oxford University from 1989 until 1994 and Professor of Rhetoric and Oratory at Harvard from 1985 to 1998. He was selected for numerous awards and honours including the Nobel Prize for Literature in 1995 and the Griffin Poetry Prize Lifetime Recognition Award in 2012.
Then we'll visit the National art gallery, National Museum of Ireland, National Wax Museum, and Dublin Castle Trinity College – Trinity Library.
The National Library of Ireland is the Republic of Ireland's national library located in Dublin, in a building designed by Thomas Newenham Deane.
Our representatives will assist you from the airport to check you in to your respective hotels. Get you settled, feed you, and make you comfortable.
Later, we will explore the roads of Dublin City and have a breath of fresh air as you do street adventures and street buying 😀. 
See the full tour outlet here:
https://laamglobal.com/laam-tour/