Muslim Sisters of Éire is once again holding our fourth Ladies Charity Winter Ball to welcome in winter with a very special evening!
About this event
Muslim Sisters of Éire is once again holding our fourth annual Ladies Charity Winter Ball to welcome in the coolness of winter with the warm company of their sisters. After a year of lockdown and pandemic, we all deserve an evening of fun and entertainment.
Proceeds raised from this night will be going towards our ongoing projects, like our 'Bag for Life' campaign for the homeless.
This will also be a night to celebrate diversity between women of different backgrounds and cultures, as well as an occasion for women to relax and enjoy themselves.
Enjoy a delicious four course meal and take part in a night of fun filled activities.
Please note: Tickets are non-refundable and children are not allowed. 16+ only.
***Vaccination certs or covid recovery certs as well as id will be checked at registration. No entry without certs***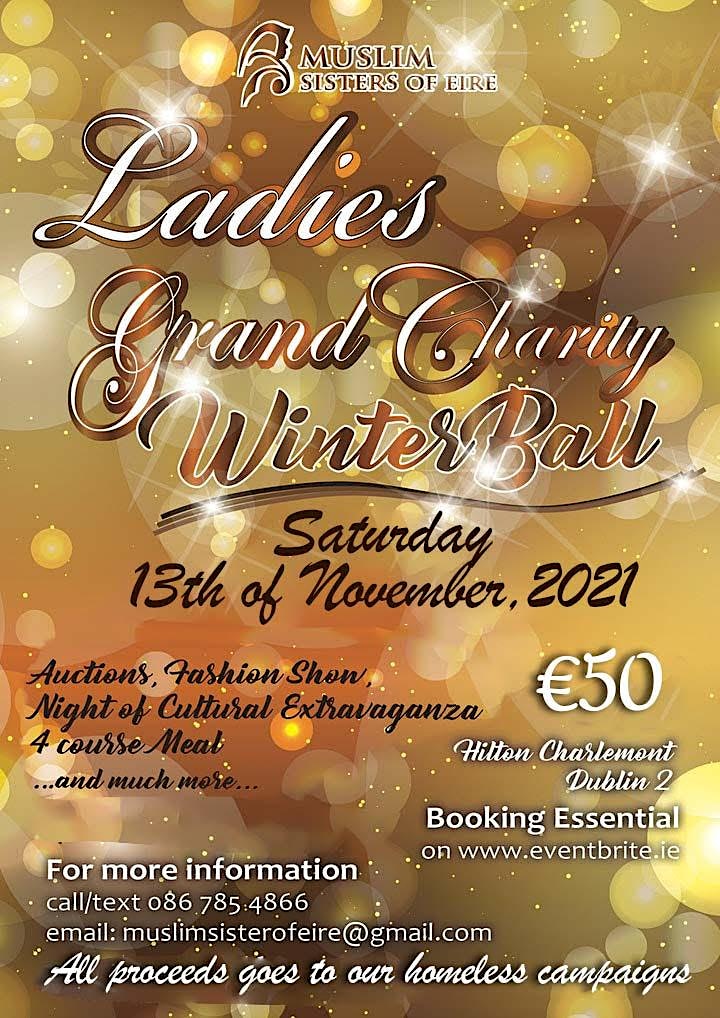 Organiser of Ladies Grand Winter Charity Ball
Muslim Sisters of Eire are a women's group, based in Dublin. We officially began in July 2010 and are a non-profit organisation, whose primary objective is to provide support and a safe place for Muslim and Non-Muslim women alike.
We focus in areas of diversity, support, intervention, integration and youth support. Muslim Sisters of Eire have organised activities that cover spirituality, stress management and relaxation, education, youth work, diversity and integration, sports and recreation, counselling, fundraising, media, conferences and day trips. We are also heavily involved in projects that aim to provide relief of poverty and economic hardship, such as feeding the homeless every Friday, occasionally running a soup kitchen, and fundraising for those most in need.
MSOE have also taken part in newspaper, television and radio appearances where we have spoken about Islam in an Irish context.