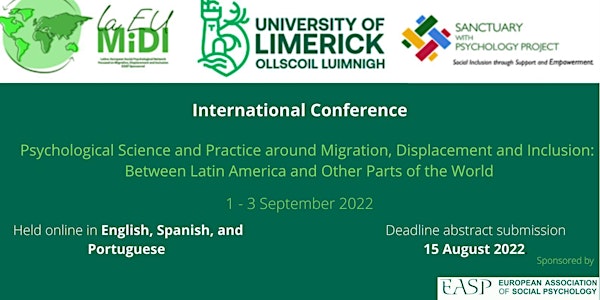 LaEUMidI International Conference
Psychological Science and Practice around Migration, Displacement and Inclusion: Between Latin America and Other Parts of the World
About this event
The Latino-European Social Psychological Research Network focused on Migration, Displacement and Inclusion (LaEUMiDI) hosts its 1st Online International Conference over three days in September 2022. The conference aims to bring together academics and practitioners from Latin America and other parts of the World to explore topics of psychology of migration, displacement and inclusion.
The Conference's main objective is to facilitate the development of sustainable collaborations between practitioners and academics from Global South and Global North to maximize the impact of psychological expertise for those working with or affected by migration, displacement and inclusion. The conference will support the network of Latin American and European experts working on these topics.
The conference will be held online in English, Spanish, and Portuguese (live translation provided).
The conference will be a space for exploration of new ideas and establishing professional collaboration between different parts of the world, and between academics and those working at the front line with migrants, refugees or asylum seekers.
There are five conference themes:
1. Mental Health of Migrants: how displacement because of war or natural disasters affects people's resilience and integration prospects?
2. Intersectionality of Migration: How vulnerability and inclusion of migrants depend on multiple group memberships
3. Collective Action & Social Change: how do we create solidarity and support for migrants and displaced people?
4. Reducing Prejudice, Stereotypes & Intergroup Relations: how host societies can promote inclusion?
5. Human Rights and the Morality of Social Exclusion: the role of ideological beliefs in the processes of migration/displacement and inclusion.
We proposes an innovative new format for the conference, where we can use the time to meet and discuss with colleagues who work with similar population groups, who do similar research, or are looking to apply their scientific knowledge to particular practical issues, as well as practitioners who are looking to connect with researchers abojt certain topics.
During the conference, people who work on similar topics or with similar populations will be grouped together to further present or discuss potential collaborations.
To facilitate the exchange and discussions, the presentation, posters/infographics and/or mindmaps presented in the session should be available for all. We intend to upload these in a shared folder for all participants.
The acceptance of posters and presentations is closed now. However, there are places available to take part in the conference as an attendee. If you want to participate, please register. The registration will be closed on 31 August at 5 pm Irish time. If you are based in any country other than Latin American country, please, choose the 'participants based in European country' category during registration.
A Fee Waiver is applied to those practitioners, scientists and interpreters who are already members of the LaEUMiDI network and joined/participated in the Small/Thematic Group Meetings. By joining the conference you will become a member of the network. If you want to become a member of the LaEUMiDI network please register here .
The income generated from the conference fees contributes to the continuation of running the LaEUMiDI network and to the professional development of the network members. Since November 2021, the group based at the University of Limerick worked on a volunteering basis and with sponsorship from the European Association of Social Psychology.
If you have any questions, please send an email to laeumidi@ul.ie