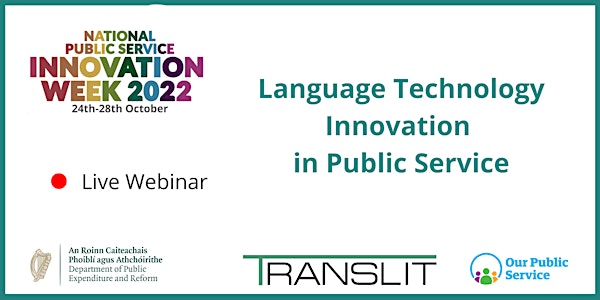 Language Technology Innovation in Public Service
Ireland National Public Service Innovation Week 2022 - championing innovation and transformation in the public service
About this event
For years other countries around the world have explored new and innovative ways to use technology to help their public service sector break down the language barrier.
Who will benefit from this webinar:
With Ireland's non-native English-speaking population continuing to grow year on year, and the recent influx of refugees from work-torn countries like Afghanistan and Ukraine, there has never been a more important time for the government to use technology to access this cohort of people.
Language technology is here to help, to bring the communities across the country together and make communication between government bodies and non-native English speakers seamless.
You will learn:
The language technologies that exist out there.
How other public services around the world are already using these technologies.
About interpretation technology (OPI, VRI and RSI), how it is used in other countries such as USA and Australia and how it can be used in Ireland.
How other countries' social services, healthcare, education, and other public sectors have learned to use these technologies while Ireland still rings interpreters.
The interpreters' marketplace and interpretation booking and scheduling, while skipping the tendering process. The company in Nordics that opens up their database of interpreters to the public - government bodies are using freelancers without going through the tender process.
Case studies, including how Translit has helped a Japanese telecoms company adapt to language technology.
The webinar outcomes for you:
Following this webinar, you will be able to explore new opportunities with your department. The information you will receive could transform the way you and your colleagues communicate with the general public and allow for a whole new experience backed by the latest advancements in language technology.
Please send your questions, comments and feedback to svetlana@translit.com
Your presenter
Alex Chernenko is the CEO and founder of Translit (a Complete Language Solutions Provider based in Ireland). He speaks six languages and has 20 years extensive experience in the Language Service, Events and IT industries along with hosting, speaking at, and attending some of the major conferences in Europe and around the world. At Translit, he has built a one-of-a-kind interpretation-focused marketplace and subsequently, a remote interpreting platform that revolutionizes multilingual events.