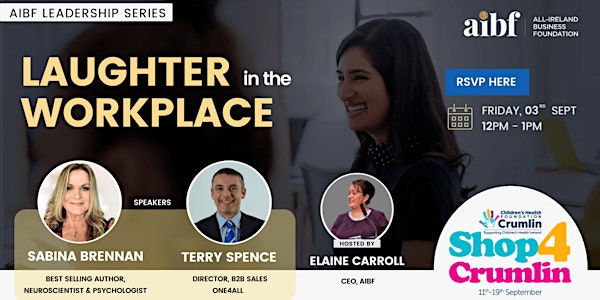 Laughter in the Workplace
Laughter in the Workplace
About this event
Join us on Friday, September 03rd, 12.00 p𝗺 for a Leadership Series with Sabina Brennan & Terry Spence.
All-Ireland Business Foundation are delighted to partner with One4All to host a special session in our Leadership Series on Laughter in the Workplace.
Together we want to raise awareness of the Shop4Crumlin initiative and make the lives of the patients of CMRF a little bit brighter, one giggle at a time.
Did you know that laughter can make you more productive at work? And people that are happy work harder?
Being inundated with bad news and working from home, for some alone, during the coronavirus pandemic has made it harder than ever for workers to find the time for laughter, but experts argue that it can really make a difference when it comes to productivity.
Working from home, at least partially, looks likely to be here to stay which means for some less time spent with colleagues in the long term and fewer chances to blow off steam by joking around in the office.
𝐑𝐒𝐕𝐏 𝐡𝐞𝐫𝐞👉https://aibf.ie/one4all/
Some highlights of the topics which our speakers will be addressing:
Our panel will be discussing the importance of laughter in the workplace and how encouraging it promotes a positive environment, helps colleagues bond, creates a positive attitude and helps improve communication.
Laughter Helps your Health.
Laughter is a Potent Stress Buster.
Laughter is Humanising and Helps Build Trust.
Laughter Enhances Creativity.
Laughter Boosts Morale.
Laughter can Allow your Company to Stand out.
Laughter can Increase Productivity.
About Sabina Brennan:
Sabina Brennan is a psychologist and neuroscientist. She hosts the Super Brain Podcast and is a bestselling author who is particularly interested in implementing simple habits into daily life to develop brain health at all ages and stages of life. Her first book 100 Days to a Younger Brain is a No 1 Best-Seller and she has recently published her second book, Beating Brain Fog.
At Trinity College Dublin, she leads Brain Fit, a study of brain health, lifestyle, genetics and dementia and has also advised both the Irish and UK governments on matters related to ageing, brain health and dementia.
She lives with her family in Dublin Ireland, along with her rescue dogs - Daisy, Scruffy and Dizzy.
Sabina will be joined by Terry Spence, Director, B2B Sales, One4All - who is known to many as being 'all-round great craic' and Elaine Carroll, CEO of the All-Ireland Business Foundation who herself has been described as a 'barrel of laughs'!!!!.