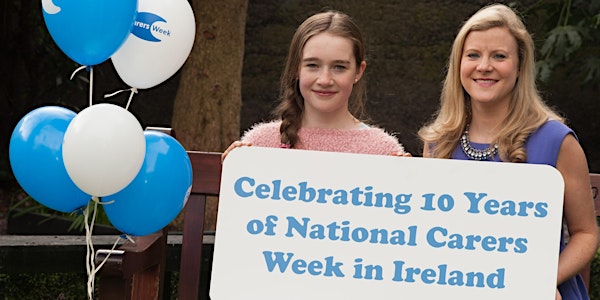 Launch of 10th National Carers Week 2016
Date and time
Mon, 13 Jun 2016 11:00 - 13:00 IST
Location
The Alexander Hotel 41- 47 Fenian St. Dublin 2 Ireland
Description
On behalf of the Official Partners we would like to invite you to the Launch of the 10th National Carers Week 2016
The morning will include some words from newly elected Senator John Dolan, and a poetry reading by Monica Corish from her new book, A Dying Language.
Supporter of the week, Nuala Carey will also be there to meet Family Carers.
DATE: Monday June 13th 2016 TIME: 11am-1pm.
LOCATION: The Alexander Hotel, 41-47 Fenian St., Dublin 2
LIVESTREAM: A livestream of the event will be broadcast on the National Carers Week Facebook page. Livestream will be available from 11am on Monday 13th June.
2016 Partner Organisations in National Carers Week: Acquired Brain Injury Ireland, The Alzheimer Society of Ireland, Care Alliance Ireland, Disability Federation of Ireland, Family Carers Ireland, Irish Cancer Society, The Irish Hospice Foundation, Inclusion Ireland and Multiple Sclerosis Ireland.
About the organiser
Care Alliance Ireland is the National Network of Voluntary Organisations supporting Family Carers. Our vision is that the role of Family Carers is fully recognised and valued by society in Ireland.
We co-ordinate National Carers Week annually. There are 12 partners in the week this year. 
We exist to enhance the quality of life for Family Carers. We achieve this by supporting our member organisations in their direct work with Family Carers through the provision of information, developing research and policy, sharing resources, and instigating opportunities for collaboration.
There are in the region of 360,000 Family Carers in the Republic of Ireland. Family Carer support is provided by a number of organisations, including those dedicated solely to carer support and others who support carers as part of their response to individuals with specific conditions. We work with our 85 member organisations and other agencies to support them in their work with Family Carers.
Our legitimacy derives in part from our membership base which includes a wide range of organisations currently providing services to Ireland's Family Carers. Our membership is comprised of both large and small, regional and national organisations.