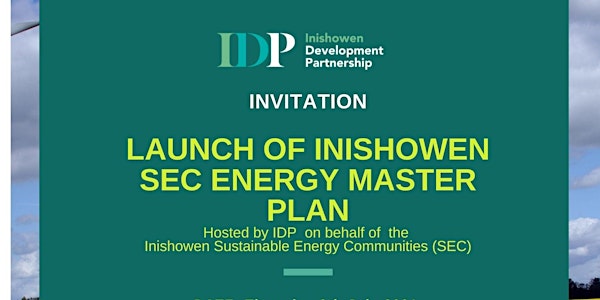 Launch of Inishowen SEC Energy Master Plan
The SEC Energy Master Plan is a comprehensive overview of energy consumption and energy generation on the Inishowen Peninsula.
About this event
This event is hosted by Inishowen Development Partnership (IDP) with presentations from Mel Gavin (Sligo IT); Laurence O'Reilly (ORS Consultants); Ruth Buggie (SEAI); Bill Kelly (Community Power). A Zoom link will be sent to attendees prior to the event.
Key-Note Speaker: Anja Murray: Anja is an ecologist, an independent environmental policy analyst and broadcaster. For the past 7 years Anja has been an expert presenter on the popular television programme 'Eco Eye' on RTÉ 1, exploring the challenges facing the natural environment in Ireland through the perspective of what can be or is being done to effect positive solutions. For more than 20 years Anja has led policy and research initiatives in environmental-related subjects, as well as working extensively with communities, local authorities, environmental NGOs, youth groups, state agencies, as an advisor on Climate Action in the Houses of the Oireachtas, and in EU institutions.
Anja is a regular contributor to the national conversation about Ireland's environment through television, radio, public speaking engagements, training and events. She has a weekly award-winning radio series called 'Nature File' on RTÉ Lyric FM and several features and forthcoming series about Irelands Natural Environment also for RTE Lyric FM.