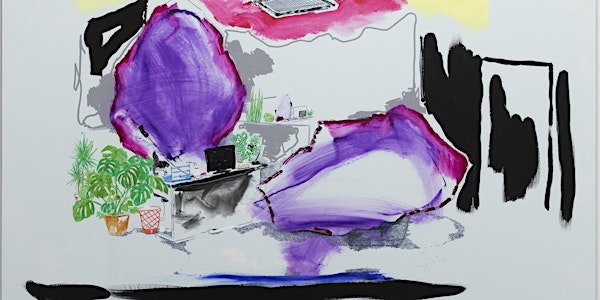 Laura Fitzgerald - Artist's Studio Talk
Collection Thoughts - Collection Talks/ Artist's Studio
About this event
Join us as we connect with artist Laura Fitzgerald in rural Co. Kerry, where she has recently relocated to.
Laura's work A Very Bad 1: 1 acquired to the Drogheda Municipal Art Collection in 2020, and which will be on view for the first time as part of the Collection.
Zoom Guidelines & Settings
The required ZOOM link will be sent to all attendees via Eventbrite 1 hour before the talk is to start.
As further protection, each unique link will be accompanied with a password only for those intending to participate, and sent to the email used to book through Eventbrite
ZOOM's 'Waiting Room' feature has been enabled, allowing the host to check and admit attendees to the session.
Please make sure your ZOOM username/profile name matches that which was used to book through Eventbrite
Use of Social Media Accounts to sign into the Workshop ZOOM meeting have been disabled to protect privacy of attendees
The talk will be locked once all scheduled attendees have been admitted
File Sharing has been disabled.
ZOOM's Chat Save function will be disabled
ZOOM's Private Chat function will be disabled
About:
Laura Fitzgerald works in drawing, painting, video and text. Recent shows and screenings include: Headcase, at the RHA Ashford Gallery, Futures, Series 3, Episode 2, RHA Gallery, Brief Encounters between Structure & Agency, the Irish Film Institute and Lucian's Neighbours, at the Irish Museum of Modern Art, Dublin.
Fitzgerald is currently working on a new body of work for the EVA Platforms Commission 2020 - 2021 and is in receipt of a bursary award from the Arts Council to support her work in 2020. She is also working on a new body of work for the Wexford Emergence Visual Art Award, which she applied for nine times.
She was in residence at the Firestation Artists' Studios until late 2020 and she both greatly enjoys and fears living in the real world.
Artist's Statement:Laura Fitzgerald's practice is a self-reflexive, a self-critical comment on how it is to be an artist and human. She is making work about human behaviour and art behaviour; the latest 1:1 you had at the office while your head was exploding; a drawing of the bullshit your therapist is trying to extradite from your head or a video explaining how sheep and cows are curators.
Her work is trying to be useful. She is very worried that making art is – in fact – useless so she is making herself believe; that art can be so radically useless, it can provide some relief from contemporary anxiety and stress. Or it could make you laugh. A momentary cosmic rip in the here and now. She is concentrating on using humour as a tool within this work, as an anti-depressant or a coping strategy to everyday lived experience.
Drogheda Municipal Art Collection/ Laura Fitzgerald, A Very Bad 1:1
(2019) Oil, household and blackboard paint; marker on board, 122 x 99cm, purchase
"Have you done the risk assessment for the sandwiches?" He says. I look at him blankly. "Egg sandwiches left in a fridge overnight pose a significant health hazard". A company man. The sound of him drinking tea announces the birth of the capitalism. Slllllluuuuuuurrrrrrrrrp. Ahhhhhhhhhhhhhh. I do not like tea.
Does he suspect I have been cooking the books? I've been imputing fictional eighty year old participants into the company software. TP tracker evaluates the happiness levels of old folks doing creative ACTIVITIES into cash. Great auld data altogether - for the team meetings with EXECUTIVE. My high numbers mean Anne and Stella don't get their class pulled due to non-feasibility. We have been meeting weekly for a year now, working on a book about a French speaking Welsh Highland terrier who lives in Paris.
I wish I had put floating boiled eggs, circling above both the rock heads.