Description

The LAI's Career Development Group in collaboration with the Royal College of Surgeons Library:
Lead to success: a vision for Irish libraries
Librarians are sometimes challenged to lead during times of change or disruption - both failure and success can give great insight into our project and strategic management skills. To date there have been few CPD opportunities for Irish Librarians which directly addressed the need for developing the skills and resilience needed to lead the 21st Century Irish library. The CDG is delighted to announce a half day seminar which will bring together librarians at different levels of leadership to begin a discussion on how best to lead Irish Libraries today and how to encourage and support the leaders of tomorrow. Our keynote speaker will be Mr. John Lonergan, former governor of Mountjoy Prison, who will share lessons learned on his own professional journey. This half day seminar will also hear from a range of voices in the Irish library world who have faced challenges and overcome obstacles of their own while actively honing and reflecting on their leadership skills. The seminar will be followed by the CDG AGM and networking at the Swan pub.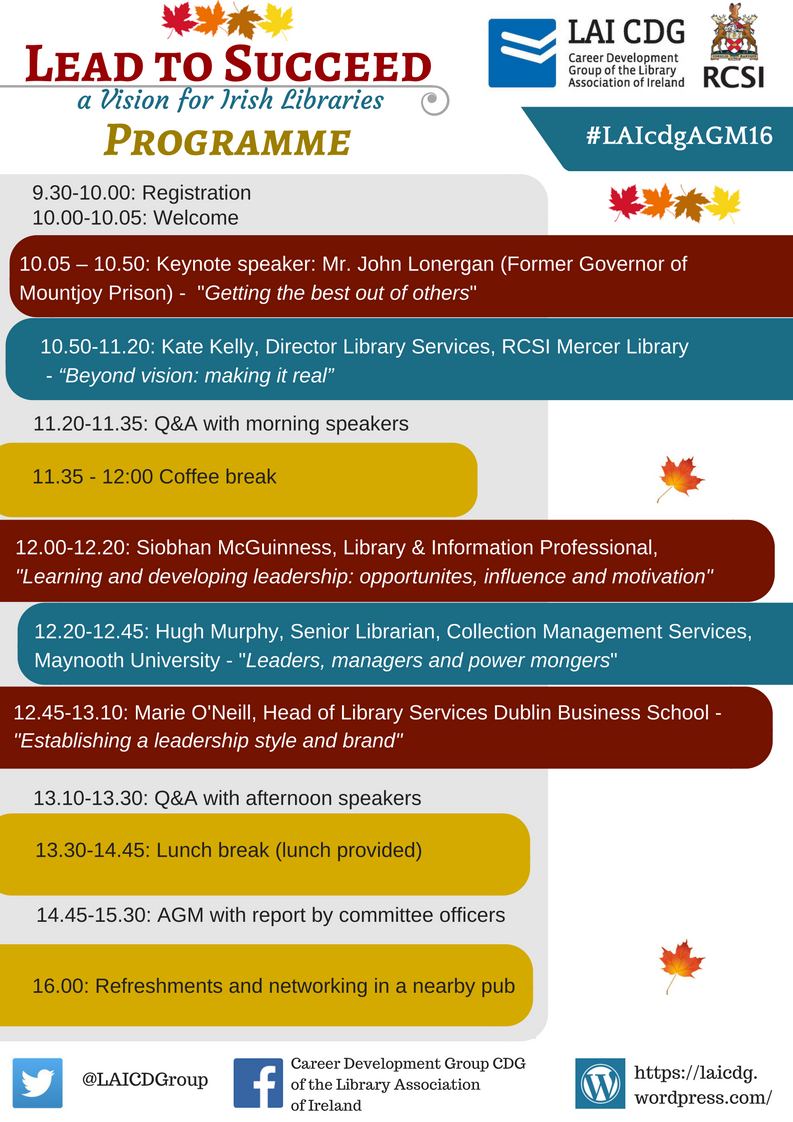 Talk summaries:

John Lonergan: John's talk will explore how to be the type of leader that gets the best out of others.

Kate Kelly: Kate's talk will focus on vision in the context of leadership, particularly the reality of articulating and realising a vision.

Siobhan MacGuinness: Siobhan's talk will discuss how to learn leadership. Being bold and brave in developing this skill within librarianship. Looking at how leadership can bring opportunities to your professional profile creating a positive influence and motivating those around you to become great leaders.

Hugh Murphy: Hugh's talk will focus on the gulf between leadership and management, the notion of 'power' and offer some personal thoughts on the challenges inherent in these roles in a rapidly changing profession.

Marie O'Neill: Marie will speak about the leadership potential that lies within all library personnel. Drawing upon her own experience as Head of Library Services at Dublin Business School, she will discuss approaches to developing one's own leadership potential as well as a unique leadership style and brand. Marie's presentation concludes with a call to the Library profession to more robustly prepare and empower library students and personnel for leadership roles, discussing approaches to how this could be achieved.
Tickets
Waged: €20 (LAI Members)
Waged €30 (Non LAI Members)
Unwaged/ Students: €12
(Plus booking fee)