Learn how to boost your business performance and avoid burn-out?
Description
Dear Entrepreneur,

You are more than welcome to join a special networking event in Republic of Work on 23rd of May @ 5.45pm
On the evening you will get a chance to learn life changing skills from two highly experienced coaches in the areas of performance, productivity and personal development. In addition to that you will get an opportunity to network with other similar-minded people before and after presentations. We are going to have our networking session in Imperial Hotel across the street
What we will learn by the end of the evening:
How to maximize your time more effectively to be more productive

How to avoid burnout in today's fast-paced society

How to boost your performance to do more in less time

How to successfully perform at an executive level
This event is for you if you are:
An entrepreneur or business owner who is overwhelmed by the number of tasks in your business

You are busy professional who wants to do do more in less time

You are looking for skills that can avoid burnout in your personal and professional life

You plan to run your own business and are looking for solid fundamental knowledge

You want to improve your network with similar-minded people in your city
About speakers
Donal Mulcahy
How to perform like an Impactful Executive?
Donal has been working in the area of Performance Coaching & Consulting with Business Owners and Professionals since 2012.
From small beginnings, North Star Solutions has steadily grown by offering the SME Sector practical and innovative services which improve productivity & profitability.
North Star Solutions now works with a wide variety of clients including the Multinational, Engineering, Construction, Financial Services, Medical, Hospitality & Retail Sectors.
A Software Engineer by profession, Donal started out working in the Multinational Sector in 1999. Through running his own businesses he has gained experience across many industries . With a strong background in Leadership Development and Business Development, Donal has gained a clear understanding of what it takes to create a high-performance environment in the workplace.
"My Passion is to partner with Professionals to succeed
beyond standard norms, consistently over the long-term"
Donal's lifetime interest in improving his own performance be it in a personal or professional capacity has led him to dedicate the last 15 years to researching, studying, modelling and teaching performance strategies to individuals, teams, and organizations
CONNECT WITH DONAL VIA LINKEDIN
Jo-anne Mac Millan
How to run your business without burning out ?

Jo-Anne Mac Millan has been in private practice since 2009. She is a Psychotherapist, Sound Therapist, Trainer and Speaker.
She holds a BA Hons. Degree in Clinical Psychology and an MA Degree in Psychotherapy from the University of Limerick. She has lectured for the UCC, Mary I Immaculate College as well as PCI Colleges. She is passionate about helping people to live their best life and has a particular interest in helping entrepreneurs to become SuperPreneurs! She joined forces with Declan Dore, to co-create the SuperPreneur training programmes, which focuses on helping entrepreneurs to excel both professionally and personally!
Jo-Anne has a saying that she often shares with people: "Your business is only as good, as YOU are!" She is passionate about helping entrepreneurs to prevent "Burnout" and "Entrepreneur Fatigue" so that they can stay on top of their game. In the SuperPreneur Training Programmes, she teaches three Core Skills in what creates a SuperPreneur, which includes Self Care for Entrepreneurs, How to Stay Productive and How to Build and Sustain Positive Relationships with clients
CONNECT WITH JO-ANNE VIA LINKEDIN
Venue
Republic of Work, 12 South Mall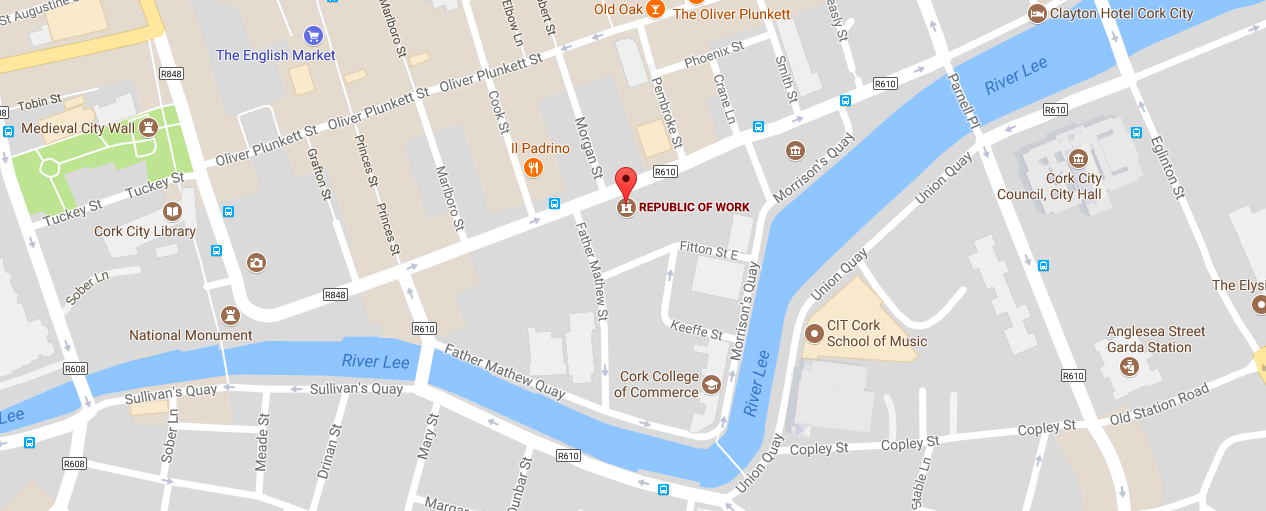 http://www.republicofwork.com/
Republic of Work is a space for work to happen. Not just any work, but your best work; the most productive, innovative, forward-thinking work that you have ever done. It is an environment for dreamers to become do-ers, for thinkers to bring their vision to the real world, a place to start, scale and grow your business.
Agenda:
5.45pm Networking + tea/coffe

6.15pm Donal presentation + Q&A

7.00pm Jo-Anne presentation + Q & A

8.00pm Networking in Imperial Hotel
Hope to meet you there,