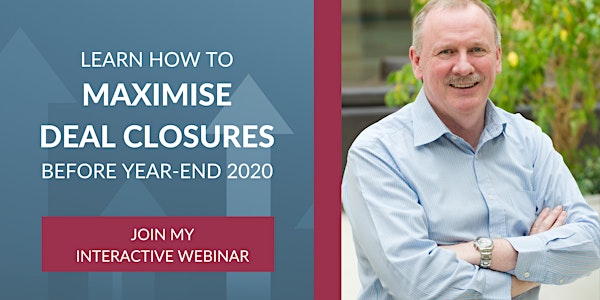 Learn how to Maximise Deal Closures Before Year-End 2020
Prevent Nasty Surprises in December by Taking Control of all Outstanding Opportunities NOW.
About this event
Are you concerned about your salespeople making their numbers?
Are there specific deals in the pipeline that you do not want to lose?
How confident are you of the win-probabilities being reported?
Would you prefer to have more visibility without micromanaging?
This interactive webinar will teach sales leaders how to critically analyse each of their opportunities with a view to improving their win-probability. It will explain how to gain greater visibility of strengths and weaknesses of each opportunity and how to work with salespeople to strengthen their position. The knowledge and insights gained from this webinar will create a stronger closing position for 2020.
During this 1 hour webinar with sales leadership coach Brendan Dunne, you will learn how to:
Measure the true Win-Probability of an Opportunity
Gain Visibility of what Needs to Happen for it to Close
Conduct more Productive Sales Meetings with Executives
Get the Information you Need without Micromanaging
Greatly Improve your Revenue Forecasting to Finance
Presenter Brendan Dunne:
I am a Sales Leadership Coach with over 35 years of Solution Selling and Sales Management experience. I provide Business Owners and Sales Leaders with the Structures, Sales Methodology Training, and Tools required to establish an effective Sales Function that will deliver continued success to the business.