Learn Inbound - October 2015

Wednesday, 21 October 2015 from 16:00 to 21:00 (IST)
Event Details

We're excited to announce the final Learn Inbound event of 2015 will take place on Wednesday, October 21st in The Academy, Dublin. Similar to our July event, we will bring together six of the brightest inbound marketing experts to share their expertise with our community (that's you!).
SPEAKERS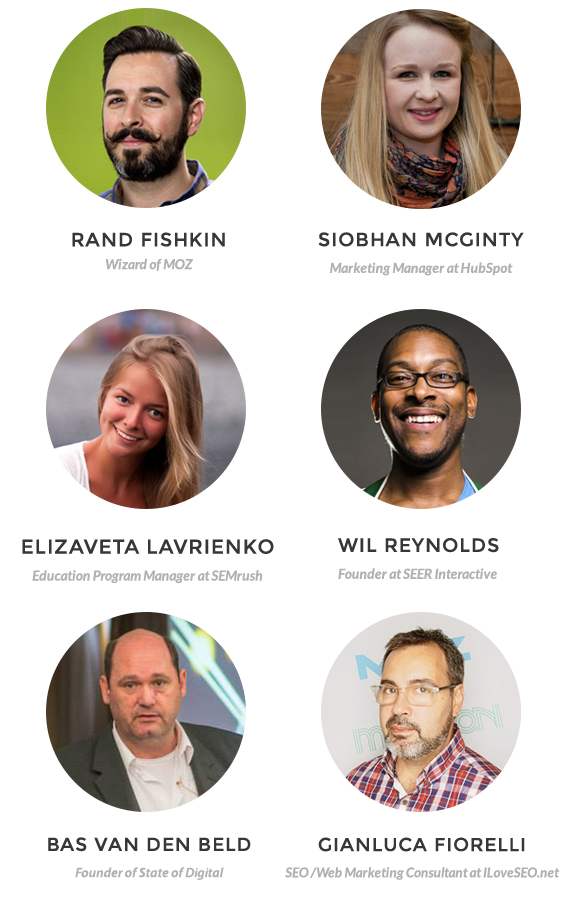 Rand Fishkin, Siobhan McGinty, Elizaveta Lavrienko, Wil Reynolds,
Bas van den Beld and Gianluca Fiorelli 
---
AGENDA

4:00pm Registration and Networking

5:00pm Welcome to Learn Inbound with Siobhán McGinty

5:10pm Elizaveta Lavrienko, Education Program Manager at SEMrush
Elizaveta joined the SEMrush family a year and a half ago, starting out as a Customer Support Specialist and growing into a SEMrush know-it-all. Elizaveta regularly conducts educational webinars and speaks at online conferences, teaching best practices and how to conduct competitive research, spreading knowledge about SEMrush tools and reports globally.

5.40pm Short break.
Grab a light snack, stretch your legs and relax.

6:00pm Wil Reynolds, Director of Strategy at SEER Interactive
In 2002, Wil founded Seer with a vision to build an agency that puts equal focus on doing great things for its clients, its team, and the community at large. From a one-man shop in the living room of his apartment to a team of over 100 on both coasts, Wil's vision has come to life and continues to grow every day.Wil currently holds the role of Director of Strategy at SEER Interactive. He focuses on identifying industry innovations and developing strategies across divisions to help clients navigate the challenges their businesses face as a result of those innovations. Prior to his current role, Wil served as SEER's Director of SEO, guiding the  team and driving strategy for all SEO clients.

6:30pm Bas van den Beld, Search & Social Expert and founder of State of Digital
Bas van den Beld is a well known and award winning Online Marketing Strategist, consultant, trainer, keynote speaker and founder of State of Digital, a platform that helps people companies understand Digital Marketing better. He is also responsible for Digital PR and Marketing at Linkdex and works on Momentology. Bas is widely considered to be an expert and influential on Digital Marketing, Social Marketing and Search Marketing and was voted European Search Personality of the Year in 2015. As a trainer he is connected to business schools and colleges in The Netherlands.

7.00pm Short break. 
Chat to fellow inbound marketers, finish jotting down some notes and grab another drink from the bar.

7:15pm Gianluca Fiorelli, SEO and Inbound Marketing Strategist at IloveSEO.net
Gianluca Fiorelli is an SEO and Inbound Marketing Strategist, who operates in the Italian, Spanish and English speaking markets since late 2003 as an independent consultant. Along the years Gianluca Fiorelli has worked with some of the most prestigious business companies, along with small businesses and startups. An active member of the SEO community, Gianluca Fiorelli is a Moz Global Associate, official blogger for State of Digital, speaks regularly in Marketing and Search conferences all over the world, offers in-company training sessions and he is regularly contracted as an expert guest lecturer in universities.

7:45pm Rand Fishkin, Wizard of Moz
Rand Fishkin uses the ludicrous title, Wizard of Moz. He's founder and former CEO of Moz, co-author of a pair of books on SEO, and co-founder of Inbound.org. Rand's an unsaveable addict of all things content, search, & social on the web, from his multiple blogs to Twitter, Google+, Facebook, LinkedIn, and a shared Instagram account. In his miniscule spare time, he likes to galavant around the world with Geraldine and then read about it on her superbly enjoyable travel blog.

8.15pm Panel Q&A with the speakers
Our 6 speakers return to the stage to take questions from the audience. Do you have a burning question you'd love to ask them?
---
SPONSORS

Moz, Vroom, SEMrush, Sheena Oosten Design, Website Doctor
---
FAQs
You can request a full refund if you contact us by Wednesday, 14th October. Alternatively, you can pass your ticket onto a fellow inbound marketer by logging into your Eventbrite account and changing the details on the ticket. If you'd still prefer a refund, please contact mark@learninbound.com.
 If you have a question you'd love us to answer then shoot an email to hello@learninbound.com and we'll get back to you ASAP! :)
When & Where

The Academy
57 Middle Abbey Street
Dublin 1 Dublin
Ireland


Wednesday, 21 October 2015 from 16:00 to 21:00 (IST)
Add to my calendar
Organiser
Founded in 2013, our mission has been to provide networking events for businesses or professionals looking to improve their digital marketing knowledge. Through a combination of inbound marketing events, videos of industry leading speakers and providing valuable content with up to date marketing advice, we seek to help marketers stay up to date with a dynamic and rapidly changing industry.


To learn more, visit www.learninbound.com, or call us at +353 (01) 541 5464