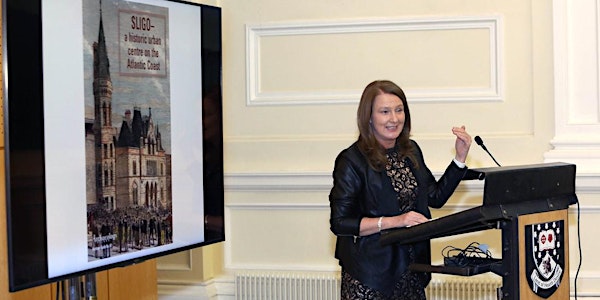 Lecture: Emigration, Trade & the Port of Sligo by F. Gallagher & J. McGowan
Location
Sligo City Hall
F91 PP44
Quay Street
Sligo
Ireland
Lecture: Emigration, Trade & the Port of Sligo by Dr. Fíóna Gallagher & Joe McGowan
About this event
Dr. Fióna Gallagher
Dr. Fióna Gallagher is a native of Sligo town and has a long-abiding interest in the urban fabric and development of the town, and urban morphology in particular. She holds a PhD in History from Maynooth University, with a thesis entitled 'Re-housing the urban poor in Irish provincial towns 1880-1947; a case study of Sligo'. She is the author of the acclaimed The Streets of Sligo: urban evolution over the course of seven centuries', (2008) and co-author of the Royal Irish Academy's Historic Town Atlas of Sligo, (2014). In December 2019, she wrote the Heritage Guide insert for Archaeology Ireland, entitled 'Sligo, a historic urban centre on the Atlantic coast'. Between 2016 and 2018 she was a senior tutor in the history department of Maynooth University.
Joe McGowan
Joe Mc Gowan is a local historian and native of Mullaghmore, Co. Sligo. Born on the family farm, he worked there in his early years until emigrating to the U.S.A. in the '60s.​ Shortly after his return to Ireland, Joe Mc Gowan, becoming keenly aware of the accelerating pace of change in the Irish countryside, decided to record the old lore before it vanished completely. Since that time he has been dedicated to preserving, visually and orally, Ireland 's disappearing traditions and customs. Now a full-time writer his books, backed by meticulous archival research, are inspired by countless nights spent visiting the older generation and listening to their tales. His short stories, usually cameos of Irish life both past and present, feature frequently in national magazines and on radio. He is also a Heritage Specialist with the Irish National Teachers Organisation 'Heritage in Schools Scheme'.
His publications include the classic In the Shadow of Benbulben; Echoes of a Savage Land; Constance Markievicz, the People's Countess; Co. Sligo Famine Book; Inishmurray, Gale, Stone and Fire; Island Voices, Sligo - Land of Destiny; and most recently Even The Heather Bled.