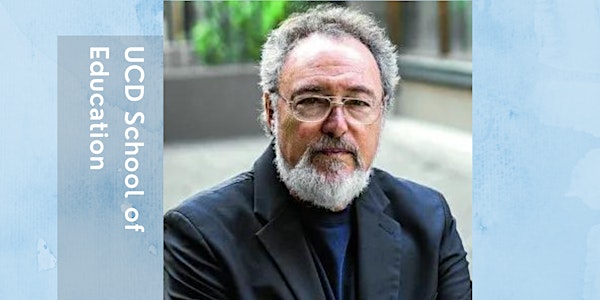 Lecture - Prof. Michael W. Apple at UCD
Lecture by Professor Michael W. Apple to celebrate his award of an Honorary Doctorate at University College Dublin
When and where
Location
University College Dublin University College Dublin Belfield Ireland
About this event
To celebrate the award of an Honorary Doctorate to Professor Michael W. Apple by UCD, Michael has kindly agreed to give a talk, hosted by UCD School of Education entitled:
RETHINKING AGENTS OF TRANSFORMATION: SOCIAL MOBILIZATIONS AND OFFICIAL KNOWLEDGE
Among the questions critical educators should ask are the following. Who are the agents; and what are the structures, movements, and identities that might lead to actions that support or resist dominant educational policies and practices. In this talk, I critically examine two examples of movements to challenge the definitions and uses of "elite" knowledge. Each has its basis in successful struggles over knowledge, over what are considered to be "legitimate" or official understandings, and over the educational mechanisms that make these understandings available. These examples direct our attention to a set of agents who are not talked about enough—students as political/epistemological actors. Both of them demonstrate the importance of our understanding the nature of collective alliance building and the creation of activist identities.
Michael Apple is John Bascom Professor Emeritus of Curriculum and Instruction and Educational Policy Studies at the University of Wisconsin, Madison; Professor of Educational Policy Studies at the Institute of Education, University of London and Professorial Fellow of the University of Manchester. He has worked with governments, researchers, unions, political movements, and dissident groups in Latin America and many other parts of the world on building more critically democratic research, policies, and practices in education. His most recent books are: Can Education Change Society? The Struggle for Democracy in Education: Lessons from Social Realities, and the new 4th edition of his class text Ideology and Curriculum. Other books include: Educating the "Right" Way: Markets, Standards, God, and Inequality, 2nd edition (2006), The Subaltern Speak: Curriculum, Power, and Educational Struggles (2006), The Routledge International Handbook of Critical Education(2009), and Global Crises, Social Justice, and Education (2010).
Date: Tuesday 6th December
Time: 5:30 pm
Location: LAW L024 - MASON HAYES Sutherland Law, University College Dublin