Lecture Series - Exploring the Experiences of Ethnic Minorities in Ireland.
About this Event
The Equality, Diversity & Inclusion Unit at RSCI is proud to bring you the third public lecture in this new series of Appreciating Culture, examining the experiences of ethnic minorities studying and working in Ireland.
Despite the increase in the numbers of non-EU/EEA doctors coming to study and work in Ireland, there is no corresponding knowledge of their experience of access to, and progression within, their profession in Ireland. Although there are a handful of academic literature and media reports on their experiences, there is still a huge gap in our knowledge of their ability to participate and progress within the medical professional field of Ireland.
Dr. Olaniyi Kolawole will present in this lecture on labour market access and professional inclusion experiences of non-EU/EEA doctors in Ireland. These experiences are bench marked against those of non-EU/EEA doctors in Canada using insights related to equality of participation, outcome, and recognition to measure progress towards inclusion.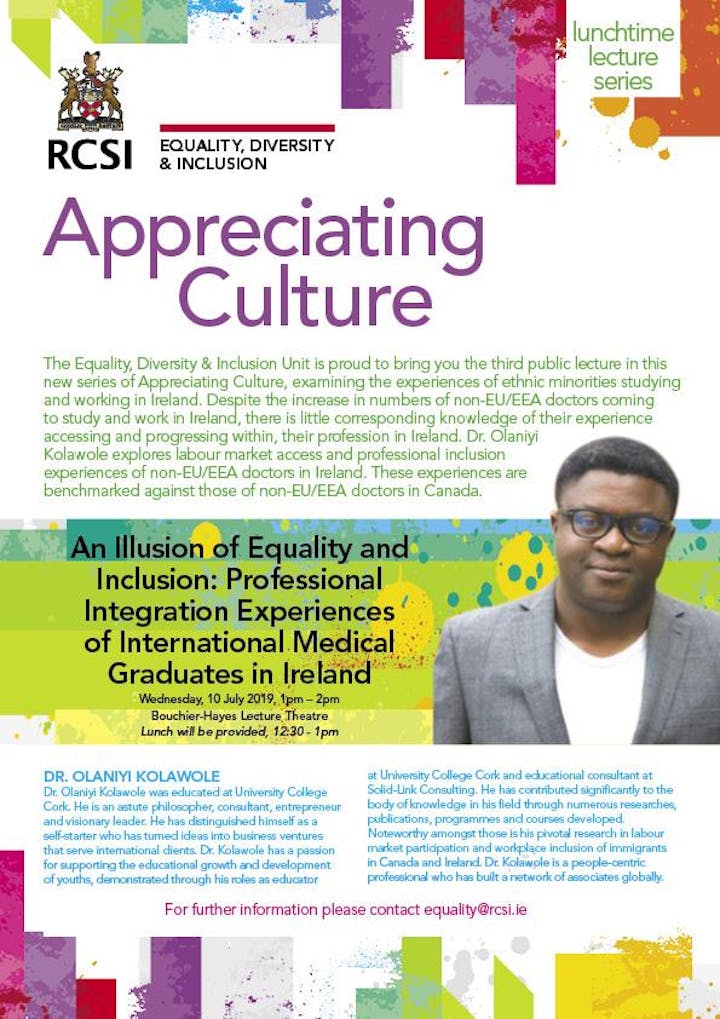 Dr Olaniyi Kolawole was educated at University College Cork. He is an astute philosopher, consultant, entrepreneur and visionary leader. He has distinguished himself as a self-starter who has turned ideas into business ventures that serve international clients. Dr. Kolawole has a passion for supporting the educational growth and development of youths and he has demonstrated this through his roles as educator at University College Cork and educational consultant at Solid-Link Consulting. He has contributed significantly to the body of knowledge in his field through numerous researches, publications, programmes and courses developed. Noteworthy among those is his pivotal research in labour market participation and workplace inclusion of immigrants in Canada and Ireland.
Dr. Kolawole is a people-centric professional who has built a network of associates globally.