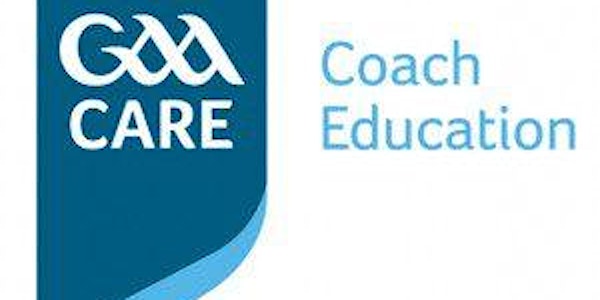 Leitrim GAA Gaelic Football Foundation Award (North and South Leitrim)
Leitrim GAA Coaching and Games Gaelic Football Foundation Award is the first step on the GAA Coach Education Pathway
About this event
Very Important Information - Please Read Before Proceeding
* In addition to completing the Gaelic Football Foundation Award, participants must also ensure that they complete a GAA Child Safeguarding Workshop and complete Garda Vetting. Please contact your club's Children's Officer or Coaching Officer for more information on this.
* After buying your ticket you will receive an email from sean.gallagher.gda.leitrim@gaa.ie with details on how to self enroll on the Gaelic Football Foundation Award Course. So please ensure you enter your email address correctly when booking your ticket and that you keep an eye on your inbox for further details.
* Due to the above reason, tickets are limited to 1 per booking.
* This course is 7 and half hours long and take places over a Friday evening and Saturday morning and both sessions must be attended - Full schedule listed below
South Leitrim
Friday 07/02/20 - 7pm - 10:30pm - Bush Hotel
Saturday 08/02/20 - 10am - 2:30pm - Leitrim GAA Centre of Excellence
North Leitrim
Friday 21/02/20 - 7pm - 10:30pm - St. Clare's Comprehensive, Manorhamilton
Saturday 22/02/20 - 11am - 3:30pm - St. Clare's Comprehensive, Manorhamilton
Course Description
The Foundation Award is the introductory award for coaches of Gaelic Games. The course is aimed at beginner coaches and will enable participants to assist a coach in the organisation of activities to develop hurling or football.
The course is seven and a half hours in duration and covers four key modules, as well as introductory and conclusion modules. These four modules are:
Introduction to Games
Skill Development
Movement Skills
Coaching Children, Youths and Adults
Coaching Competencies to be developed
By the end of this course participants will be able to:
Assist a coach in organising a programme of games and skill development activities appropriate to each participant's needs and abilities
Identify the skills of hurling
Assist a coach in organising progressive activities (drills and fun games) to develop five key skills
Assist a coach in organising progressive activities to develop movement skills appropriate to Gaelic Games
Assist a coach in organising and managing players for an effective practice session
Build Rapport, Observe, Analyse, Explain, Provide Demonstration and Provide Positive Feedback to Players
Course Philosophy
The GAA is committed to implementing an integrated Coach Education Programme with a view to maximising participation, optimising playing standards and ensuring that players' needs are catered for in a balanced way.
The course is designed to promote the development of the How to Coach skills through modelling of best practice, as demonstrated by the tutor, experimental learning and through the guided reflection on previous experiences – as a coach, player, official or parent – facilitated by the tutor.