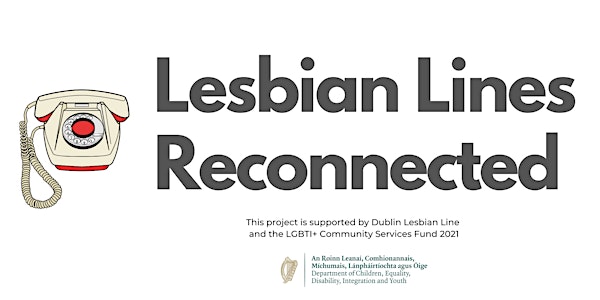 Lesbian Lines Reconnected - Focus Group - Cork
Location
Civic Trust House
Popes Quay
Cork
Ireland
Focus groups with all current and past volunteers/callers of the Lesbian Lines in Ireland. Four sessions taking place in May across Ireland.
About this event
THE LESBIAN LINES | VOLUNTEERS AND CALLERS
Can you help? We are looking for your memories, recollections and insights
THIS INVITATION TO CONNECT IS OPEN TO ALL LESBIAN LINE/LGBT+ HELPLINE VOLUNTEERS AND CALLERS - PAST AND PRESENT.
The Lesbian Lines Reconnected Project is an oral archive and research project to record lesbian and queer history in ireland. It's aim is to raise awareness and visibility of the legacy of the Lesbian Lines in Ireland. A life line for lesbian and LGBTI+ identified women across Ireland for over 40 years. It will connect the work done by volunteers and founding members with present and future LGBTI+ generations.
We want to invite any current/past volunteers and callers to take part in our focus groups to remember and celebrate this powerful work of resilience and courage.
These meetings will be recorded to document the work done by the lesbian lines volunteers. Consent forms are available on registration.
This project is a celebration of these helplines and the people who stood up, held the space for others to just be. The space between listener and caller, the space to be heard.
This intergenerational project aims to shine a light on the work that was done but also how younger members of the LGBTI+ community can benefit from this knowledge and experience. Younger generations of lesbian/LGBTI+ women do not know about the existence of the lesbian lines around Ireland and from doing research we know they are hungry to know more about their history. We feel this project identifies a gap in the knowledge of LGBTI+ histories and will endeavour to rectify this.
There will be 4 sessions as follows in May;
Dublin - May 7th - Outhouse, Capel Street (12pm - 2pm)
Belfast - May 8th LGBT Centre Belfast, 23 - 31 Waring Street bt1 2dx Belfast City (12pm - 2pm)
Cork - May 14th, Civic Trust House, 50 Popes Quay, Shandon, Cork, T23 R6XC Cork City (12pm - 2pm)
Galway - May 15th, Nuns Island Theatre, Galway City (12pm - 2pm)
If you have any questions about the project or focus group please email Cara Holmes or Hannah Kelly at lesbianlinereconnect@gmail.com