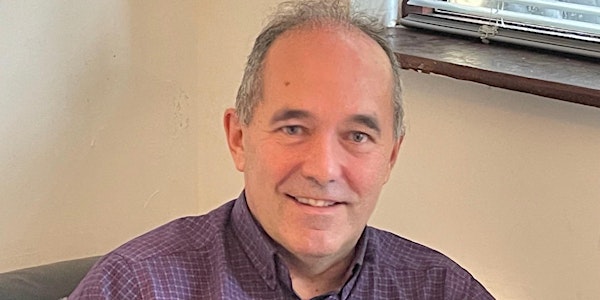 LET US RISE & RENEW! a morning with Shane Martin
A BRAND NEW WHOLE-MORNING SEMINAR WITH SHANE MARTIN
Refund Policy
Contact the organiser to request a refund.
About this event
Are you fed up with this pandemic?
Is anxiety beginning to grip you?
Are you tired of the doom and gloom?
Do you want to learn how to cope better?
The objective of this special online seminar is to help you cope better with the upheaval and uncertainty of this pandemic
Saturday 27th November 9.30 -12.30 am (inclusive of small breaks)
Empowering evidence- based material
Ample opportunity for discussion
Access to a special online library of resources
A self-care plan for the coming months
A CPD certificate issued to all participants
This pandemic has tested people like nothing ever experienced before. Our world has changed forever. Despite the success of the vaccination programme cases continue to rise. We cannot plan for the future with the degree of certainty we were accustomed to. There is a prevailing sense of insecurity affecting many people even at a subconscious level.
In this brand new morning seminar I will explore the psychological consequences of this pandemic and offer ways to learn from the experience and turn a new page. We need to take stock of what has happened but also move forward with a renewed focus on what matters about this life we live. We need to learn not only to rise to the challenges of COVID-19 but to the inevitable challenges that lie ahead.
Humans have an innate capacity to cope much better than they think. Some very simple strategies/habits can foster the traits we need for coping. We can harness hope within ourselves. We can use this pandemic as an opportunity to renew ourselves spirituality but also to help us balance our lives better. We can learn to relax better and tackle anxiety with more confidence.
You will learn about your potential not only to cope with uncertainty but to adapt to it and rise above it. This seminar is a 'must have' in the times we are living in.
Topics covered include:
Becoming more grounded - the therapeutic benefits of nature
Adding zest to life
Self-care plan
The psychology of hope
Finding purpose
Reducing anxiety - simple strategies
How does the seminar work?
The 'live' seminar will be delivered on Zoom from 9.30 am to 12.30 pm on Saturday 27th November to a closed group (all participants will have registered beforehand). A special library of resources relating to the various strategies/ themes will be made available to participants. Recording of the seminar is strictly prohibited. All the material is strictly copyrighted. By registering for the course you are accpeting these conditions.
What software will I need?
Zoom video-conferencing software is used. Participants will need to have Zoom installed on their computer or laptop beforehand. Zoom is very easy to use and free to download I will email you a registration link to the seminar. You click on this link to register your intention to attend. Within minutes you will be sent an automated email with the actual link and password needed.
Is the course suitable for people with mental health difficulties?
This seminar is aimed at the generla public and is not specifically designed for people with mental health difficulties. It does not address symptoms or treatment for mental health conditions. Its purpose is to educate around general well-being and is aimed at a general audience. 
Cost
The cost of the course is €30 (inclusive of Eventbrite processing charge). The fee includes access to the seminar, resources and certificate of completion. The fee can be paid here through Eventbrite.