In this PRIDE SPECIAL workshop, try TRE® to support your mental, emotional and physical health and build your resilience
About this event
Since the beginning of COVID19, mental health issues have increased dramatically around the world. These challenges are even more pronounced in the LGBTQ+ community
In our community, isolation and confinement have disproportionately increased substance abuse. Some U.S. studies reveal, this is also increased in the general population, but at a lower rate than in the LGBTQ+ community
Boredom, isolation, and loneliness have been experienced by the entire population in this pandemic. However, LGBTQ+ individuals face additional challenges, including increased stress due to experienced, and still existing, social prejudices, acts of violence, as well as family rejection due to our sexuality or gender identity. This may have played a role in our history and may have resulted for many of us in the use of unhealthy coping mechanisms based on substance abuse and addiction to sex, work and other self-destructive behaviors.
Many of us had already experienced symptoms of chronic stress, anxiety, insomnia, depression, exhaustion, chronic pain and post-traumatic stress. Now, with COVID19, without our usual social life, our friends, our outings, it may have become just TOO much.
In this PRIDE SPECIAL workshop, try TRE® to discover a powerful body-based tool for taking care of yourself to support your mental, emotional and physical health and build your resilience
What and who is this for?
This workshop on 19/05/2021 @6:30pm at the Centre Champaca is open to all LGBTQI+ people and its is an ideal opportunity to DISCOVER TRE® and have a first experience with learning how to use its "neurogenic vibrations"🤪 and literally shake off stress🤯, anxiety and fear 😰 in these very challenging times of uncertainty😵 for all of us.
You will learn to be in your body and self-regulate in response to tension, stress and trauma.
Reported benefits of practicing the TRE® method include:
Less stress
Better sleep
More energy
Reduced anxiety
Less chronic pain
This is an experiential workshop and lasts about 3hours and is organized as follows:
Intro (~1h)
Intro and initial sharing
Basic theory
> 15min break <
Practice (~1h45)
TRE® guided exercises
Time for relaxation and integration
Time for sharing and Q&A

Once learned and mastered, the TRE® method can be used as needed throughout your life.
The group is limited to 8 people only to comply with the COVID19 measures for keeping a safe distance.
How to dress?
There are no special requirements. Wear comfortable, loose fitting clothing. The only limitation is that you may not wear a skirt.
What to bring?
You can bring your own yoga mats and or a blanket to lay on the floor. Think about your comfort, pack a few extra blankets to keep you warm to make you more comfortable.
Bring your bottle of water.
PRECAUTIONS:
CAUTION: It is contraindicated to use TRE® if you have epilepsy, seizures, schizophrenia or are currently pregnant. Please check all precautions here
Facilitated by:
Fabricio Carrizales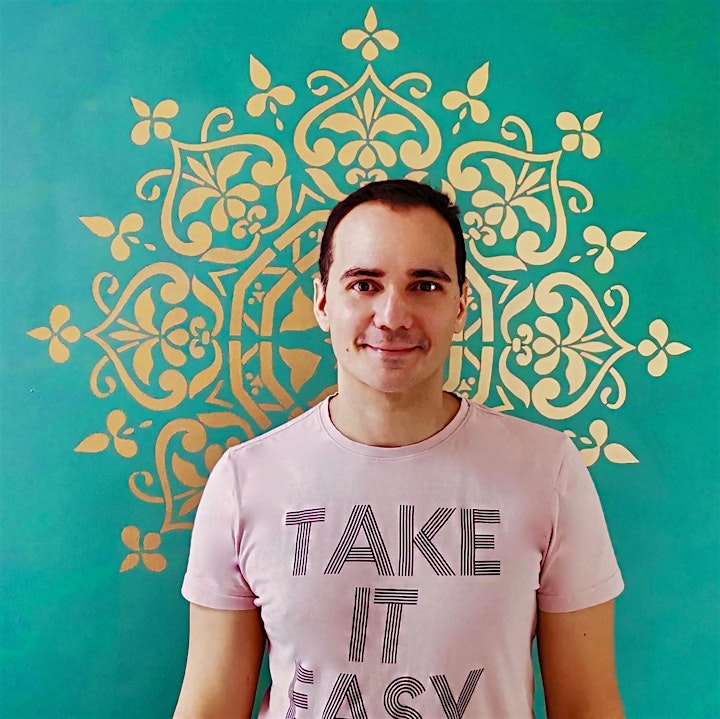 Fabricio Carrizales practices Integrative Somatic Coaching, where he combines conventional conversational coaching modalities with unconventional body-centered (soma) techniques to tap into the natural healing power of the subconscious, nervous system and body. In this way, real, profound and lasting results and transformation are achieved. He is a Certified Advanced TRE® Practitioner, Mindfulness Instructor, Life Coach and Somatic Experiencing® Therapist (body-centred therapeutical approach to healing emotional traumas)
TRE® in a nutshell
You can watch this short cartoon for a simple and easy way to understand what TRE® is
TRE® (Tension, Stress and Trauma Releasing Exercises ) is a body-mind technique that uses an innovative series of physical exercises that help the body to release deep muscular tensions and stress patterns, and encourage our body and our autonomic nervous system to return to its state of calm (homeostasis)
The technique was designed by the American Traumatologist Dr. David Berceli as the simplest and most effective way to stimulate and intentionally activate a natural reflex mechanism called "neurogenic tremors" in a safe and controlled way.
Organiser of Let your LGBTQI+ body vibrate in its true colours with TRE®