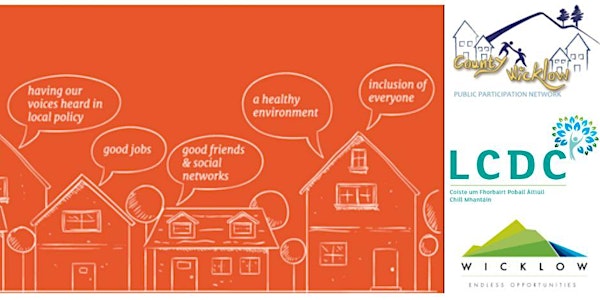 Let's Develop our Vision for our Bray Municipal District Community
Tell us about your vision for the wellbeing for your community and help shape future County Plans
When and where
Location
Bray Town Hall Main Street A98 D2X9 Bray Ireland
About this event
We are asking community groups and individuals from our diverse communities throughout the county to share their vision for our community with us to help:
Inform the development of the new Co Wicklow Local Economic & Community Plan (LECP)*
Prepare the new Co Wicklow PPN Vision for Community Wellbeing Statement**
This is a really important opportunity for everyone, young and old, in Co. Wicklow to let your voice be heard and in so doing help to ensure that representative organisations and individuals are working towards our shared vision for the county and that policies and plans for the county reflect our vision.
Draft documents will be made available for further feedback/consultation before being finalised and published.
This in person consultation is aiming to understand what you or your group/organisation consider to be the important factors for the future wellbeing of our community under the six wellbeing themes outlined in the graphic below.
If you are unable to attend your local in person consultation session you can book to join the online session that will be held via zoom on Wednesday 25th May.
Notes
* The Local Economic and Community Plan (LECP) is a six-year plan containing objectives and actions to:
Promote and support economic development
Promote and support local and community development in Co. Wicklow both by Wicklow County Council itself and in partnership with other economic and community development stakeholders
**The Co Wicklow PPN Vision for Community Wellbeing Statement. Community Wellbeing is seen as a good measure to show how well we are doing. It can help Co. Wicklow PPN to monitor and identify actions that can be undertaken by local and national government as well as by communities to work towards our shared vision.
Co Wicklow PPN worked with communities to develop a Vision for Community Wellbeing for each of the Municipal Districts and the county as a whole in 2018 but the PPN now wants to go back and find out if that Vision is still relevant or if priorities have changed over the last four years.