Description
Dear Traders & Investors,

Our first networking event for investors and traders in Dublin takes place 18th January in Sinnotts bar at 7.00pm

One of the ingredients of success in any area is building a strong network with similar minded people. We are a group of people who support each other, exchange new ideas and learn from each other's experiences.


If you are interested in the stock market, currency trading, options trading or commodity markets you will be able to exchange ideas with others who have similar interests.
If you have an interest in Bitcoin or other cryptocurrencies you will find people with similar interests.
This is your opportunity to meet others who have been 'on their own'. This is an unmissable meeting of minds where everyone who attends will learn from each conversation they have and come away knowing more about stock market investing and trading other financial markets
Let's make our main subject setting up our trading and investment objectives for 2018. Weather you are starting or are already experienced trader there is always room for setting up yourself new plans. Let's exchange ideas with new friends.
JOIN AND BECOME A PART THE BIGGEST GROWING NETWORK FOR INVESTORS AND TRADERS IN IRELAND
We are starting around 6.30 pm and meeting by the bar. Please reach out to me via 086-881-2828 if you have any problem finding us.
Register and attend if you want to start growing and learning from your own network.


When and Where?
From 7.00pm, Thursday 18th in Sinnotts Bar on

South King Street, Dublin 2

.
We will have our own separate area where you will be able to hold conversations with other group members.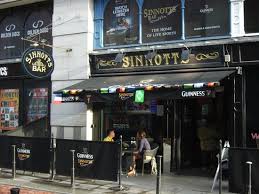 I hope to meet you there
Adam