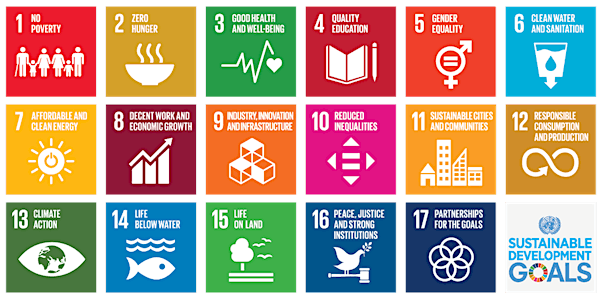 Let's innovate on 17 Global Goals in Cork
By The Ladder Global Goals Accelerator
Date and time
Wed, 9 Jan 2019 17:30 - 20:00 GMT
Location
REPUBLIC OF WORK 12 South Mall Street Cork Ireland
Description
Invitation to collaborate on reaching global goals together in Cork
Mapping opportunities for innovation solutions to the 17 Sustainable Development Goals at the Ladder global goals accelerator workshop.
Who should attend?
- Innovation professionals
- Local governments
- Enterprise representatives
- Small businesses
- Nonprofit organisations
- Community groups and activists
Agenda for the evening?
5:30pm - Networking
6:00pm - Introduction to global goals accelerator
6:15pm - Workshop: Mapping global goals in Cork
7:30pm - Networking
Why attend?
- If you are involved in smart cities, sustainability, climate change, poverty reduction, health and wellbeing, you need to attend this.
- Up to 40* Global Goal projects will be sponsored by The Ladder for Innovation workshop. Join the many NGOs, communities, social enterprises and researchers that have validated their projects/brought solutions to critical problems with The Ladder.
- Connect with Innovation Professionals, technology, local government & the non-profit sectors
- Get to know the global goals targets (United Nations Sustainable Development Goals and Social Progress Index)
- Get a taste of innovation methodologies (Google Design Sprint, Impact Measurement)
- Register for our global goals workshops. Facilitate in co-creation of social innovation for one evening a week, over six weeks from January 16 until February 20.
See you there
The Ladder Team
---
The Ladder is a global goals accelerator. We mobilise people to reach global goals, locally. Our innovation workshops (so-called Sprints) facilitate inclusive and efficient collaboration between technologists, scientists, civic society, governments and enterprises. https://theladder.io
* Number is dependant on the number of facilitators available in Cork and public interaction. Dublin runs 40+ sprints per year with 5 organisations simultaneously. Expected number of sprints is 1-2 for Jan/Feb then ramping up as new facilitators are trained.
About the organiser
The Ladder makes action easy. We mobilise the public to create new initiatives that target global goals, locally.
Our programmes:
- Community. Pro bono service for people - free design sprint and facilitator training for everyone committed to co-create new initiatives at our workshops.
- Services. Innovation training and professional facilitation of design sprints available for enterprise and government.
- Dashboard. Technology to map local issues, resource new initiatives and report on impact made towards global goals, locally.
www.theladder.io