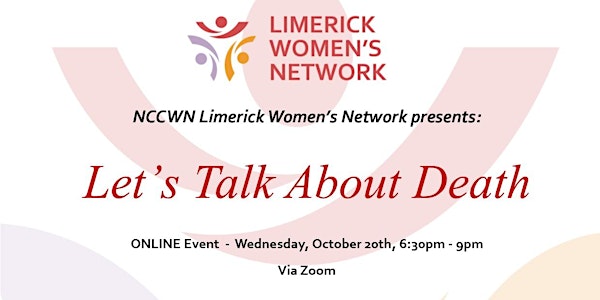 Let's Talk About Death - Online event
Let's Talk About Death aims to demystify and normalise conversations about death and dying. (Online event)
About this event
With this event we aim to be 'one stop shop' and safe space for women to discuss, learn and think about their own mortality and what plans they would like to have in place.
This online event includes:
Ham sandwiches, Death Doulas and Mushroom Suits: Why Women are the Future of the Deathcare Industry - Jennifer Stritch - Thanatologist
Planning and Thinking Ahead - Rebecca Lloyd - Irish Hospice Foundation
Fair Deal Scheme – Ann McMorrow - Health Service Executive
What women want - Wills, Wealth and Wellbeing - Sharon Cahir - Solicitor
Q&A session.
This event will have ISL interpreters.
This event is supported by Our Lady of Charity Ireland Trust Fund at The Community Foundation for Ireland and HSE National Lottery Funding.