Are you a person from ethnic minority living in Co. Cork? Then join this gathering to discuss your civic and political rights.
About this event
Are you a person from ethnic minority living in Co. Cork? Then join this gathering to discuss your civic and political rights with like minded people.
More details:
Ethnic Minorities Participating in Policy Decision Making: Why so Few?
Irish society has become more diverse. There are many different types of people, ethnicities and nationalities, living in Ireland today. However, this diversity is not represented in public, private sectors' and community life. There are very few people from the Traveller Community, Roma Community, Eastern Europe, Africa, Asia, Arab Nations, Latin America and non-Irish Nationals contributing to decision making about the important everyday issues that affect our lives. There are societal challenges such as housing, unemployment, access to education etc that particularly affect under-represented communities. Enabling Active Participation is key to bringing about change towards a more inclusive society.
We need your help in identifying the barriers and possible solutions to active participation.
Please join us for a discussion with like minded-people.
Please note it is mandatory that you register to attend this online discussion. Registrations close at 10:15am on Sat 29th Jan.
Also, we'd like to inform you that this session will be audio recorded only for CityLabs' research purposes only. If this makes you uncomfortable, please let us know during the event and CityLabs team will be sure to not use anything you say for their research purposes.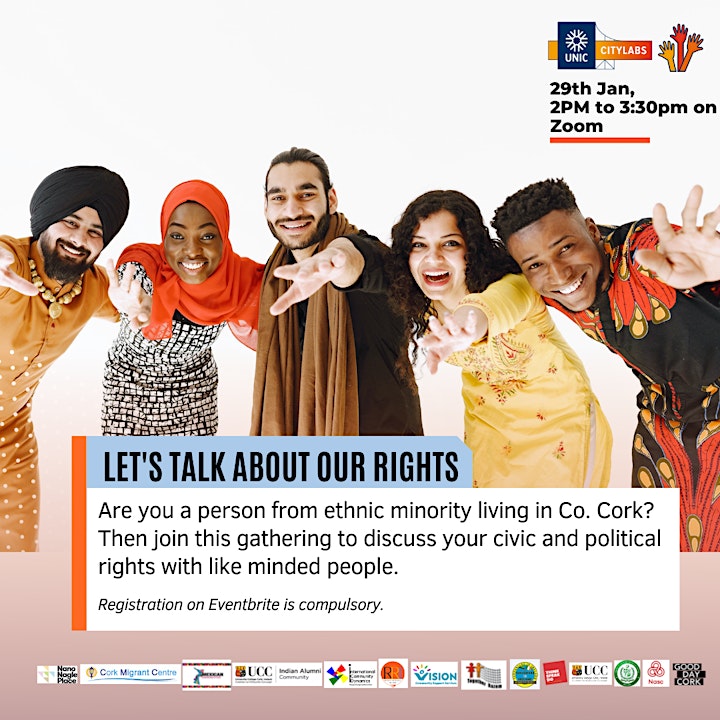 مشاركة الأقليات العرقية في صنع القرار السياسي.
لماذا قلة منهم فقط؟
لقد أصبح المجتمع الإرلندي اكثر تنوعا، هناك العديد من الأشخاص ذوي الجنسيات و الأعراق المختلفة يعيشون في إيرلندا اليوم، و مع ذالك لا يتم تمثيل هذا التنوع في القطاعين العام والخاص والحياة المجتمعية.
هناك عدد قليل من الأفراد من مجتمع الرحل، من مجتمع الغجر، من أمريكا اللاتينية، من أوروبا الشرقيه، أفريقيا، آسيا، الدول العربية، و المواطنين غير الإرلنديين الذين يساهم ن في صنع القرار بشأن القضايا المهمه التي تؤثر على حياتنا اليومية.
هناك تحديات مجتمعية كالإسكان، البطالة، التعليم و ماإلى ذالك و التي تؤثر بشكل خاص على المجتمعات الممثلة تمثيلا ناقصا.
التمكن من المشاركة الأنشطة هو المفتاح لإحداث التغيير نحو مجتمع أكثر شمولا و تنوعا.
نحتاج إلى مساعدتكم لتحديد العوائق و إيجاد الحلول الممكنة.
Minorías Étnicas Participando en la toma de decisiones políticas: ¿por qué
tan pocas?
La Sociedad irlandesa se ha hecho más diversa. Hay diferentes tipos de personas, etnias y nacionalidades viviendo en Irlanda hoy en día. Sin embargo, esta diversidad no esta representada en los sectores público ni privado, ni en la vida comunitaria. Hay pocas personas de las Comunidades Traveller o Roma, de Europa del Este, África, Asia, Naciones Árabes, Latinoamérica o ciudadanos no irlandeses contribuyendo en la toma de decisiones sobre problemas cotidianos que afectan sus vidas. Existen desafíos sociales como vivienda, desempleo, acceso a la educación, etc. que aquejan particularmente a comunidades subrepresentadas. Facilitar la Participación Activa de estos grupos en la toma de decisiones políticas es clave del cambio hacia una sociedad más inclusiva.
Necesitamos de tu ayuda para identificar las barreras y las posibles soluciones que conlleven a una Participación Activa
Ushiriki wa makabila/makundi ya walio wachache katika sera za maamuzi: kwanini wachache?
Jamii ya Ireland (Ayaland) imekua na mchanyanyiko wa watu. Kuna watu kutoka makabila na mataifa mbalimbali waishio Ireland kwa sasa. Licha ya hiyo, mchanganyiko huu wa watu toka sehemu tofauti hauwakilishwi vizuri katika sekta za umma, sekta binafsi, na katika jamii.
Kuna watu wachache kutoka jamii ijulikanayo kama "Travellers", jamii ya waroma, watokao ulaya mashariki, Afrika, bara la Asia, mataifa ya Uarabuni, Amerika ya kusini na jamii nyingine zisizo za ki-irish zinazochangia katika maamuzi muhimu yanayohusu maisha yetu.
Kuna changamoto za kijamii kama vile makazi, ukosaji wa ajira, elimu na kadhalika ambazo zinaathiri jumuiya hizi zisizo na uwakilishaji. Njia muhimu ya kuleta mabadiliko kuelekea jamii inayojumuisha kila mtu ni kuwezesha ushiriki kamilifu.
Tunahitaji msaada wako katika kutambua vizuizi na suluhisho sahihi la ushiriki kamilifu.
پالیسی فیصلہ سازی میں حصہ لینے والی نسلی اقلیتوں کی اتنی کم تعداد کیوں؟
آئرش معاشرہ دن بہ دن مزید متنوع ہوتا جا رہا ہے۔ یوں تو آئرلینڈ میں مختلف اقسام کے لوگ، نسلیں اور قومیتیں آباد ہیں۔ تاہم، اس تنوع کی نمائندگی تا حال عوامی و نجی شعبوں اور معاشرتی زندگی میں نہیں ہو سکی ہے۔ ٹریولر کمیونٹی، روما کمیونٹی، مشرقی یورپ، افریقہ، ایشیا، عرب ممالک، لاطینی امریکہ اور دیگر غیر آئرش شہریوں کی بہت کم تعداد ایسی ہے جو سماجی مسائل پر فیصلہ سازی میں ایک فعال کردار ادا کرتے ہوں جب کہ سماجی مشکلات جیسے رہائش، بے روزگاری، تعلیم تک رسائی وغیرہ کے مسائل خاص طور پر ایسی اقلیتی کمیونٹیز کو زیادہ متاثر کرتی ہیں۔ ان سب گروہوں کی شراکت داری کو فعال بنانا جامع معاشرتی تبدیلی کے لئے ایک بہت اہم عمل ہے۔
ہمیں اس فعال شراکت داری کی راہ میں حائل رکاوٹوں اور ممکنہ اصلاہات کی نشاندہی کرنے میں آپ کی مدد درکار ہے۔
सांस्कृतिक अल्प-संख्यांकों का नीतिगत निर्णय-प्रक्रिया में भागीदारी इतनी कम क्यों?
आयरिश समाज अब बहुत ही विविधतापूर्ण हो गया है| आज आयरलैंड में, विभिन्न संकृतियों और राष्ट्रीयताओं के लोग रहते हैं| मगर, यह विभिन्नता सार्वजनिक, निजी क्षेत्रों में और सामुदायिक जीवन में नहीं झलकती| हमारी रोज़मर्रा के महत्त्वपूर्ण मुद्दों से जुड़ी निर्णयप्रक्रिया में, बंजारा या रोमा समुदाय, पूर्वी यूरोप, अफ्रीका, एशिया, अरबी देश, लैटिन अमरीका और गैर-आयरिश नागरिकों का सहभाग बहुत कम है| ऐसे कई सामाजिक चुनौतियां हैं, जैसे के गृहनिर्वाण, बेरोज़गारी, शिक्षा के अवसर इत्यादि, जो इन अल्पप्रतिनिधित्व वाले समुदायों को प्रभावित करता है| सक्रिय भागीदारी को सक्षम करना ही समावेशी समाज की तरफ़ बदलाव लाने का ज़रिया है|
सक्रिय भागीदारी के रास्ते में आनेवाले बाधाओं और संभावित समाधानों को पहचानने के लिए, हमें आपकी मदद चाहिए|
Il y a peu de minorités ethniques participants dans la prise de décision politique en Irlande. Pourquoi?
La société irlandaise est devenue plus diversifiée. Il existe de nombreux types de personnes, ethnies et nationalités différentes, vivant en Irlande aujourd'hui. Cependant, cette diversité n'est pas représentée dans la vie publique, privée et associative. Il y a très peu de personnes de la communauté des voyageurs, de la communauté rom, d'Europe de l'Est, d'Afrique, d'Asie, des arabes, d'Amérique latine et des ressortissants non irlandais qui contribuent à la prise de décision sur les problèmes quotidiens importants qui affectent nos vies. Il existe des défis de sociétés tels que le logement, le chômage, l'accès à l'éducation, etc. qui affectent particulièrement les communautés sous-représentées. Permettre la participation active est essentiel pour amener le changement vers une société plus inclusive.
Nous avons besoin de votre aide pour identifier les obstacles et les solutions possibles à la participation active.