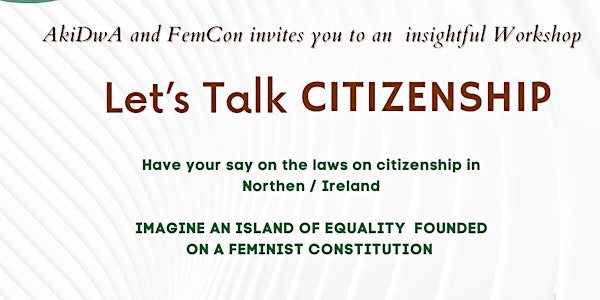 Let's Talk Citizenship - AkiDwA x Feminist Constitution Project
Imagine a land founded on a constitution where migrant women's interests were are the center of the constitutional approach to citizenship
When and where
Location
One Wilton Park, LinkedIn Community Space LinkedIn Community Space Wilton Terrace Dublin Ireland
About this event
Imagine a land founded on a constitution where migrant women's interests were are the center of the constitutional approach to citizenship.
Feminist Imaginings?
The State(s) - what would a feminist state be - across/between both jurisdictions ?
The Power - feminist power to make/draft constitutions?
The Law - feminist law?
The Rights - feminist rights?
What is a feminist future for Ireland & Northern Ireland?
How do we remember the past, our histories of harm, joy and feminist activism?
AkiDwA is working with the Feminist Constitution project to provide an opportunity to escape into such a realm.
Join us to discuss citizenship as contained in the constitution of the island of Ireland (both Northern Ireland and the Republic of Ireland) at our Workshop on Wednesday 30 November 2022 from 10am to 12pm at the Community Space at Linkedin office at One Wilton Park, Wilton Terrace, Dublin
We want to hear from you!
Register here!