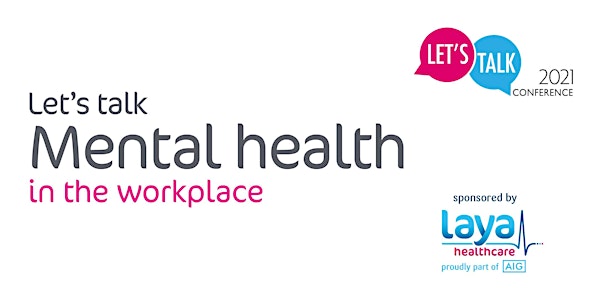 Let's Talk Mental Health in the Workplace (Morning & Afternoon Sessions)
A must attend event for those concerned with Culture, Wellbeing, Resilience, Engagement - especially as they relate to changing work models.
Refund Policy
Refunds up to 7 days before event
About this event
A must attend event for those concerned with Culture, Well-being, Inclusion, Future of Work 
An event aimed at creating dialogue with senior professionals as they identify the supports and structures needed to improve their organisation's Mental Health strategy.
This year there will be a special focus on Putting Empathy & inclusion at the Heart of the New Workplace and the morning session will look closely at the particular Mental well-being challenges facing women at this time
The event will include a combination of presentations and panel discussions....with plenty of time allocated to interactive Q&A sessions. We will maximise the opportunity presented by the virtual event format and bring international speakers to our audience. This will be our most compelling agenda to date.
The event is split into morning and afternoon sessions
Morning session 9.30am -12.30pm aimed at senior HR professionals and to include
Roisin Ingle - Opening
Aongus Hegarty - Co Chair Balance for Better Business. The Importance of Inclusion in a Healthy Workplace
Loreta Dignam, CEO, THe Menopause Hub in conversation with organisations who are leading the way in terms of hormonal health
Interview with Jess Phillips MP, Shadow Minister for Domestic Abuse and Safeguarding. The importance of an employers proactive response to domestic abuse and coercive control
Panel Discussion, Including Emma Richardson, Director, Lewis Silkin, Worksphere HR Services,
Roisin Ingle Close
Afternoon Session 2.00pm -4.30pm aimed at HR professionals and wellness teams, includes
Interview with Margaret Heffernan, Author, CEO & TED Speaker
"Leaders need to make Mental Health part of their culture. Why ?"
Panel Discussion
We would like the event to be accessible to all ... and so the attendance fee is Voluntary. If your business has been affected by Covid-19, please attend as our guest. If you are in a position to pay the Voluntary Fee (€49) - we will donate €20 of the attendance fee (40%) to Pieta House
If you would like to attend both the morning and the afternoon sessions, there is no need to pay the Voluntary Fee twice !!