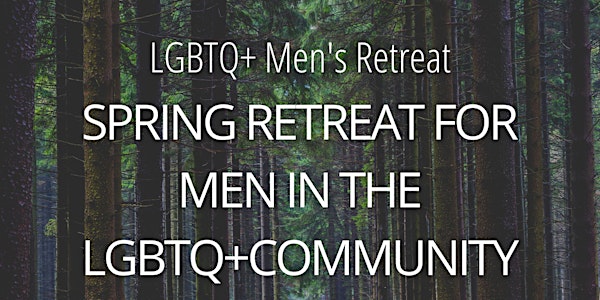 LGBTQ+ Mens Spring Retreat
Join us for our Spring Retreat for Men in the LGBTQ+ community
Date and time
Fri, 28 Apr 2023 19:00 - Mon, 1 May 2023 22:00 IST
Location
St Patrick's Missionary Society, Kiltegan Fathers st patricks missionary society W91 Y022 Kiltegan Ireland
Refund Policy
Contact the organiser to request a refund.
About this event
Sean and James would like to invite the men in our community to our Spring retreat. Our theme for this retreat is renewal and we are excited to be with you as you renew, reawaken and find new parts of yourself.
Our retreat is for you to connect with self and others, grow and develop in your masculine identity as well as relax and have some fun!
The retreat will run from Friday 28th April 6 pm until Monday 1st May 4pm. We have found that the extra day allows full integration, time, and space to really engage with the other participants (We are advertising early to facilitate asking for annual leave requests).
We will gather as a community of men for a weekend of sharing, nature, reflection, and connection. Over the course of the weekend, we invite you to join us to experience the deep work of awareness and connection such as drumming, breath-work, ritual, fire, silence, small groups, time, and immersion in nature including forest bathing, solo-time, teaching... and more.
Sean is a Satir Coach and Mentor, Mind coach, and NLP (neuro-linguistic programming) Master Practitioner, certified with the Irish Institute of NLP. He has long had a passion for mind, body, and spiritual wellness and is also trained in many different energy and bodywork modalities.
James is an accredited psychotherapist , an eco/forest therapist, and a sound therapist as well as a shamanic practitioner. James has a deep connection with nature and shamanic practices which have grown through training in transpersonal psychology. James has a devotion to LGBTQ mental health and well-being and in particular building community through connection and sharing of stories.
The theme for our weekend will be Renewal
We all go through periods in life where we try to hold on to memories, people, and things. As wonderful as it is to reminisce the past at times, we must also learn to accept the fact that things change. Life, for all of us, is abundant in experiences, opportunities, and struggles, and without each of these, we cannot grow. We must always change, renew, rejuvenate ourselves; otherwise, we harden."
This retreat is open to all men in the LGBTQ+ community who are 18 or over. All are welcome regardless of age, orientation, marriage or trans status.
The retreat will take place at Slí an Chroí, retreat centre St. Patrick's, Kiltegan, Co Wicklow, just over an hour from Dublin city this is a beautiful retreat house we have used for the past 5 years and we are always made to feel welcome and have the use of the grounds and house. The retreat is not connected to any religion.
The grounds are beautiful with forest walks, a lake, and beautiful spaces in nature for reflection and rejuvenation of the mind, body, and spirit.
The accommodation consists of simple but comfortable twin and single rooms with shared bathrooms. Each participant will have their own bedroom in order to fully embrace the retreat experience.
All meals served will be vegan. (Coeliac can be catered for)
The fee for the retreat is €300. This includes the facilitation of all sessions accommodation for three nights and four days, as well as meals and snacks on all days. Please note that your place is not secured until you have paid at the Eventbrite link below.
We are limiting attendees to 16 participants, to secure your place please use the Eventbrite link we will send you upon registration. Please do not assume your place is not secured until you have paid. Please also note we are advertising across several platforms not only on meetup.
Further information will be provided once you have registered.
You are welcome to contact James and Sean via email with any questions or to arrange a chat lgbtqwellnessireland@gmail.com
We are very much looking forward to welcoming you
James and Sean
Some comments and feedback from our last retreats:
Highly recommend going on the retreat, was brilliantly organized, relaxing, enjoyable and is a lovely weekend away'- K
I can't express my experience of the retreat other than life-changing and soul-warming. My highest spiritual experience as a gay man. - B
I know we can trust you and Sean to make it a totally worthwhile experience 👍- J
I felt great after the weekend. Very content and energized. Sean and James are excellent at running it. Looking forward to the next one.-J
The food is amazing, the facilitation is fantastic, Sean and James work so beautifully together and made me and everyone else feel welcome, included and cared about, the weekend is relaxed, there is humour and ease and they really go above and beyond. I am coming away learning so much about myself and I have made friendships and connections that I am looking forward to growing, I can not wait for the next one.- K