Online LGBTQ+ panel discussion that explores the journey of 'coming out', the self-disclosure of one's sexuality or gender identity
About this event
Out stories – How We Got to Where We Are Now
Back due to popular demand, Expleo's LGBTQ+ ERG is delighted to bring you the second instalment of 'Out Stories - How We Got to Where We Are Now'. This event will explore the experience of 'coming out' from the perspectives of our panellists who are all members of the LGBTQ+ community. It aims to broaden our knowledge of other peoples experiences and educate us around what it is like for LGBTQ+ people in modern Ireland. It also strives to inspire and give hope to those who may be struggling with their sexuality or gender expression.
'Coming out' is a long standing metaphor used to describe the process for LGBTQ+ people's self-disclosure of their sexuality or gender identity. No two 'coming out' stories are the same and the process can be intensely emotional and stressful. For many, the thoughts of revealing your true self to the people in your life can be daunting, potentially opening you up to rejection, ridicule and ignorance. However, there is much light, comradery and joy to experience as an LGBTQ+ person, and the voyage is just beginning when coming out.
In this panel discussion, our speakers will share their journeys with the audience and how their lives have changed since they took the decision to 'come out'. Each of our panellists has become a role model for others in the LGBTQ+ community by being courageous and honest in sharing a deeply personal experience in order to support others who may be struggling. Through this and other actions, they have become activists in the fight for equality for all LGBTQ+ people and an inspiration for those who may not yet be ready to start their journey.
This online event will be hosted by Siobhán Smith (She/Her) at Expleo and the discussions will be followed by a Q&A whereby the audience is welcome to ask a question to the panel.
Watch back last year's episode here.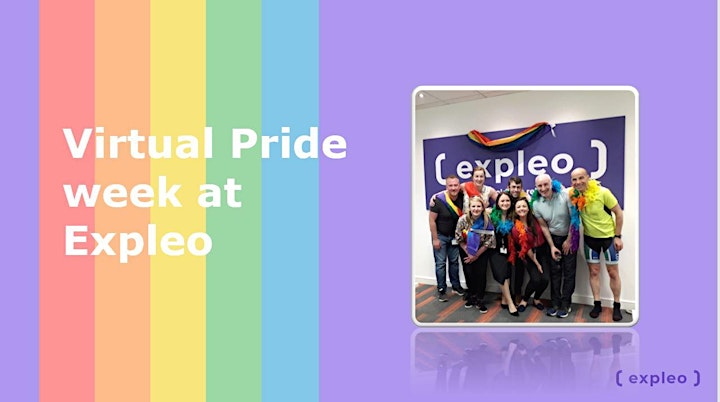 About the speakers
Laura Lavery (She/Her)
Laura Lavery works at PwC NI, and leads their LGBTQ+ Network, Shine, as well as co-ordinating the overall people network strategy in the region. Laura also co-chairs the Working with Pride network, which brings together LGBTQ+ networks from businesses all across NI to share best practice, support each other on events, and allow members to build out their networks externally. Laura also supports a number of local LGBTQ+ organisations through these networks, and was involved in the Businesses for Love Equality campaign, which helped to push through equal marriage in the North. In 2020 Laura also feature on the INvolve Global Top 100 LGBT Future Leaders list
Noah Halpin (He/Him)
Noah Halpin is a 29 year old transgender man from North County Dublin. Noah is the Community Aid Officer (healthcare) at The Transgender Equality Network Ireland (TENI) and is also the founder of the This Is Me-Transgender Healthcare Campaign; Which advocates for safe, accessible, best practice, person centred healthcare for all transgender and non-binary people in Ireland. Noah is also an active member of ACT UP Dublin and is passionate about the improvement of sexual health services nationwide as well as ending the HIV crisis in Ireland.
Lisa Connell (She/Her)
Lisa Connell (she/her) has worked with GCN Magazine, Ireland's national LGBTQ+ press since 2008 and was appointed Managing Editor in March 2019. She is a co-founder of Mother, queer club night, and has worked in the community sector and in LGBTQ+ activism for 13 years. Lisa promotes both the charitable objectives of GCN and ensures the commercial viability of the business working with the team at GCN and all the diverse network of other LGBTQ+ organisations across the Island of Ireland. Lisa believes strongly in people power and community collaboration to enact social change.
Konrad Im (He/Him)
Konrad is the LGBTI+ Sexual Health Support Worker in the Sexual Health Centre based in Cork. Through his role he offers capacity building workshops around LGBTI+ topics for groups and professionals. He also provides free one-to-one support around coming out (sexuality & gender), healthy relationships, and sexual health. This also includes support for family and peers of those coming out. Outside of this role Konrad also volunteers with UP Cork LGBT+ Youth Group (leader), Cork LGBT+ Pride Festival (Vice Chairperson and Events Coordinator), Gay Project which is an organisation for gbqMSM men, and was formerly Mr Gay Ireland 2016.
www.expleogroup.com