Liam Mac Amhlaigh in Conversation with Doireann Ní Ghríofa
About this event
In celebration of 30 years of the Irish Writers' Centre, and in collaboration with Kildare Libraries, join us as critic and literary scholar Liam Mac Amhlaigh, of Maynooth University, discusses literature and life's journeys with the renowned poet and essayist, Doireann Ní Ghríofa. This special event, crossing bilingually from Irish into English, promises to unpack what motivates and stimulates this unique poet, combining an engaging chat with selected extracts from her work.
-
Agus tríocha bliain le ceiliúradh ag Arás na Scríbhneoirí i mbliana, i bpáirt le Leabharlanna Chill Dara, bígí inár dteannta nuair a chuireann an criticeoir agus scoláire liteartha Liam Mac Amhlaigh, ó Ollscoil Mhá Nuad, litríocht agus aistir an tsaoil faoi chaibidil leis an bhfile agus scríbhneoir aistí clúiteach, Doireann Ní Ghríofa. In agallamh maorga sa dá theanga, Gaeilge agus Béarla, geallann an ócáid dhraíochtúil grinnchomhrá faoi chúiseanna spreagtha agus spéis an fhile speisialta seo, anuas ar sleachta roghnacha dá saothar.
-
Doireann Ní Ghríofa
Doireann Ní Ghríofa is a bilingual poet and essayist. 'A Ghost in the Throat' was awarded Irish Book of the Year and described as "powerful" (New York Times),and "captivatingly original" (The Guardian). She is also author of six critically-acclaimed books of poetry, each a deepening exploration of birth, death, desire, and domesticity. Awards for her writing include a Lannan Literary Fellowship (USA), the Ostana Prize (Italy), and the Rooney Prize for Irish Literature. Her most recent book of poems is 'To Star the Dark.'
Liam Mac Amhlaigh
Liam Mac Amhlaigh is a scholar and critic, specialising in contemporary Irish-language literature, and Modern Irish lexicography, and has published extensively in those areas. He teaches in Maynooth University. He is the founding editor of the academic journal COMHARTaighde (comhartaighde.ie), the curator of Portráidí na Scríbhneoirí Gaeilge (portraidi.ie), and an executive consultant to the national 'Léitheoirí na Gaeilge' (léitheoirí.ie) initiative. He most recent work centres on modernist Irish-language poetry of the second half of the twentieth century.
KCC Library Event Privacy Statement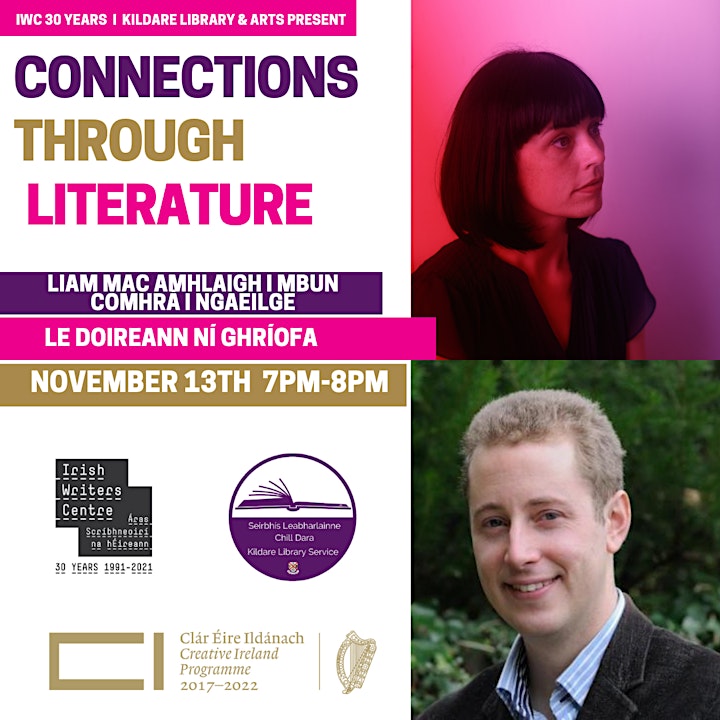 Organiser of Liam Mac Amhlaigh in Conversation with Doireann Ní Ghríofa