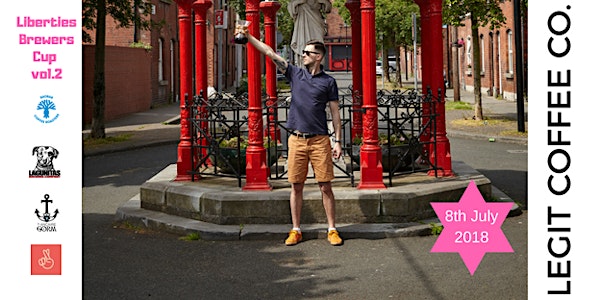 Liberties Brewers Cup vol.2
When and where
Location
LEGIT COFFEE CO 1 MEATH MART MEATH STREET Dublin 8 Ireland
Description
LIBERTIES BREWERS CUP VOL.2
This is a competition for Baristas and people who love coffee plus a bit of fun.
15 Participants will take part in a Black Coffee brewing battle reviewed by three judges.
The event will take place at LEGIT COFFEE CO. 1 Meath Mart, Meath Street. The Liberties. D8 on Sunday 8th, July 2018.
The Coffee Contest is open to public (grab your free pass).
The Idea is to engage the local community and the dublin coffee culture.
Sandwiches, Canapés, Pastry platters, beers will be provided by our sponsors.


RULES
Coffee: All participants must use the same coffee bean provided by our sponsor Baobab Coffee Roaster.
Water: All participants must use the same still mineral water Ashbeck - Tesco provided by our sponsor LEGIT COFFEE CO.
Equipment/ Grinder: All participant can used their own grinders and brewing devices. An EK 43 (Turkish Blades) will be Provided by our sponsor LEGIT COFFEE CO.
Process: By group of three, competitors will have 10 mins to brew one coffee using one preferred extraction method and present it to the judges for evaluation.
Judging:
Elimination round: three judges will score the coffees using the Specialty Coffee Association's World Brewers Cup scoresheet (compulsory round http://www.worldcoffeeevents.org/wp-content/uploads/2016/12/2017-WBrC-Compulsory-Service-Scoresheet.pdf ).
Final: Finalists will have 12 mins to brew their coffee using their preferred extraction method.
The same scorecard will be used by the judges to elect the winer of the first LIBERTIES BREWERS CUP.
Prices: Hampers (coffee, voucher, beers, brewing kit) will be given to the first 3 places.
DOOR OPEN from 1p.m.
First Competitors from 2p.m.
We also happy to cooparate with our new neighbors:LUCKY'S pub, where we will invite you for an AFTER PARTY from 5:30 p.m.