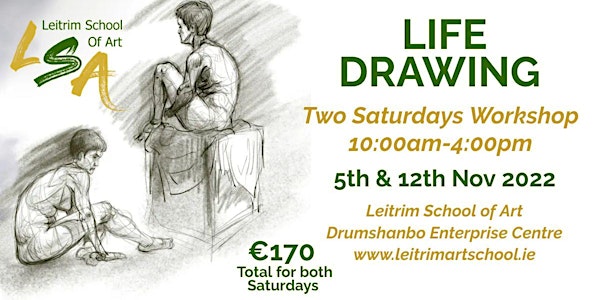 Life Drawing Workshop, over 2 Saturdays, 10am-4pm, 5th & 12th November 2022
Life Drawing Workshop, 2 Saturdays, 5th & 12th Nov, 10am-4pm Total Price €170; €30 deposit on booking, balance €140 payable on first day.
When and where
Location
Drumshanbo Enterprise Centre Building C Hilly Road Drumshanbo Enterprise Centre Ireland
Refund Policy
Contact the organiser to request a refund.
About this event
The human figure is one of the most enduring themes in the visual arts and can be the basis of portraiture, illustration, sculpture, and many other fields. Life Drawing is a major element in the traditional training of artists in the Western world.
This is a 12 hour workshop held over 2 Saturdays . The human body is a complex object which allows an artist to learn about a variety of essential techniques. Observing and interpreting the shape of the human body trains an artist to see almost every form of curve, line, and subtle undulation found in nature. The workshop is led by professional Artist and experienced Tutor Peter McSweeney
Participants will be introduced to the basics of Life Drawing. The first hour will consist of 'warm-up' exercises; gesture, contour, and modelled drawing. These prepare the Artist for more sustained drawing and at the same time introduce techniques that will further improve the Artist's observational skills
Day 1
Contour Drawing, 1 pose. 15 minutes.
Gesture Drawing, 15 poses. 30 minutes.
Cross Contour, 1 pose. 15 minutes.
10 Minute Break.
Moving Action Drawing, 10, 30 minutes
Group Pose, (no model required). 10 poses, 30 minutes
Project: Shape 1 curled in a ball, 5 poses, 1 hour.
Lunch - Bring your own packed lunch.
Shape 2 kneeling or standing. 2 Poses, 20 and 25 minutes,
Shape 3 sitting on chair, 1 hour.
Day 2
Gesture Drawing, 10 poses, 20 minutes.
Modelled Drawing, 1 pose, 30 minutes.
Project: Weight;
Sitting on a chair vertically, 1 pose, 30 minutes.
Sitting on a chair horizontally, 1 pose' 30 minutes.
Lunch
Lying on a hard surface. 1 pose, 1 hour
Lying on a soft surface. 1 pose, 1 hour
All materials will be provided.
Our Drumshanbo Studio prepared for a Life Drawing class