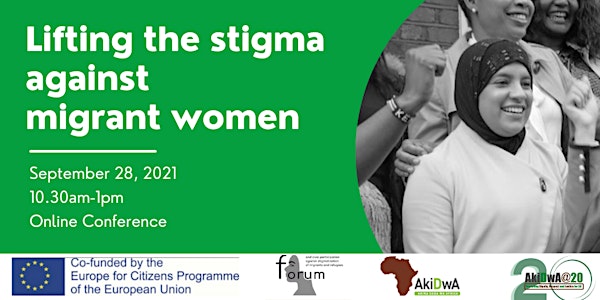 Lifting the Stigma Against Migrant Women
AkiDwA—the migrant women's network in Ireland—present a conference on Lifting the Stigma Against Migrant Women.
About this event
Forum is a European Union (EU) partnership project with seven other EU countries and it aims to engage citizens on fighting stigmas against migrants (Third Country Nationals) with the vision to encourage civic participation, promote tolerance and understanding, as part of the EU's six-year commitment, Europe for Citizens program. AkiDwA is one the key partners in this project. With a rise in stigmatization of TCNs and other violence against migrants in the EU, this project aspires to address the gap within the EU's integration policy and promote opportunities for inter-cultural engagement and volunteering at the Union level.
Stigma represents a mark of degradation associated with a particular circumstance, quality or person and determines actions like social exclusion, isolation, exploitation, bullying, discrimination, and reduced opportunities. Stigmatization not only refers to personal characteristics or limitations, but also to group, cultural, religious, racial, and ethnic identity. As a result of this project, we believe that there will be change in attitudes when dealing with TCNs and there will be a greater involvement of policy makers at all levels to spearhead policy changes and to have standardized procedures throughout EU Member States on how certain issues pertaining to migrants are handled.
AkiDwA invites you to take part in our Lifting the Stigma Against Migrant Women conference. This conference will bring together key stakeholders to address stigmatization, inclusivity, migrants' rights and integration and other important issues relating to TCNs. Particular objectives include:
- Developing a better understanding of various stigmas against TCNs and how EU citizens can mitigate those stigmas to create a more inclusive and integrated communities for migrants.
- Discussing ideas to help inform the European Agenda for Integration of TCNs and to commission a Staff Working Paper on EU initiatives supporting the integration of TCNs.
The conference will engage an array of diverse participants including government departments and agencies, experts working on diversity and equality and experts working in the area of empowering migrant women.
The conference will take place over Zoom on the 28th of September 2021 from 10.30am-1pm. You can register for this event for free via Eventbrite.