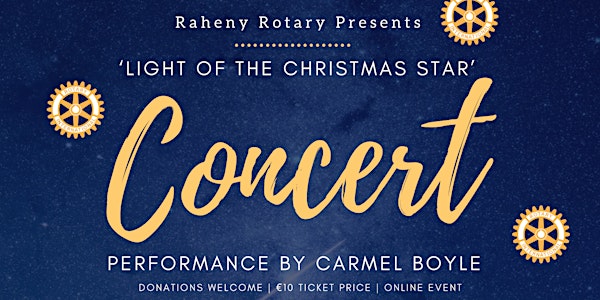 'Light of the Christmas Star' Online Concert, Raheny Rotary Fundraiser
'Light of the Christmas Star' is an evening of songs and reflections on Christmas, presented by Carmel Boyle. Live Online Performance
Refund Policy
Contact the organiser to request a refund.
About this event
Join us for 'Light of the Christmas Star' an evening of songs and reflections on Christmas, presented by Carmel Boyle, in aid of Raheny Rotary Club's projects. Carmel, a singer-songwriter, will blend traditional Christmas favourites with some of her own compositions, drawing on the theme of the Christmas Star.
Carmel has sung for Presidents and Royalty. In her early career she was a popular performer on the Irish Cabaret Scene, which included many performances in Raheny's Old Shieling Hotel's Summer and Christmas Cabarets.
For more than twenty years now Carmel has focused on composing and presenting her own spiritually orientated songs in concerts and retreat settings. She has recorded more than a dozen albums of reflective and inspirational songs including: We Will Remember; A Thin Place; Celtic Dawn; and Pilgrim Voyage. Many people have commented on the power of Carmel's voice and songs to soften and warm hearts.
'Light of the Christmas Star', what a beautiful Christmas gift this can be for us as we prepare for Christmas. Looking forward to seeing you online.
A link to purchase Carmel's Recordings is www.carmelboylemusic.com