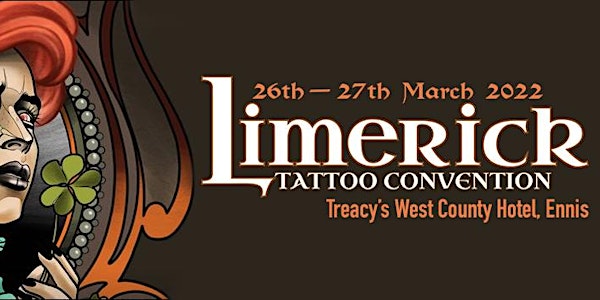 Limerick Tattoo Convention (ENNIS EDITION)
Limerick Tattoo Convention (ENNIS EDITION)
About this event
4th Limerick Tattoo Convention (ENNIS EDITION)
This year we have prepared even bigger and better venue!
The 4th Limerick Tattoo Convention (ENNIS EDITION) will take place on March 26th & 27th 2022 at the Treacys West County Hotel Ennis.
Only 25min from old venue in Limerick.
There will be over 120 of the best national and international tattoo artists tattooing live and available for appointments, also a full entertainment program over the 2 days.
The show will be hosted by world famous tattoo model and tv presenter Bernedette Macias.
As always the event will be family friendly and there will be kids tattoos and face painting available.
https://www.limericktattooconvention.com