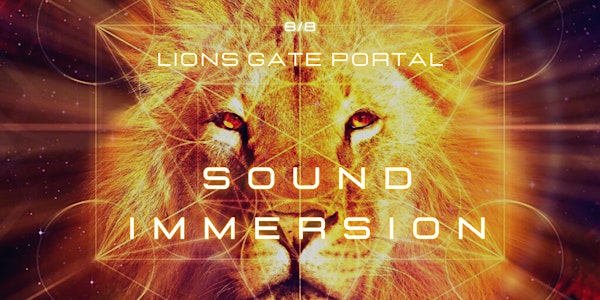 Lions Gate Portal Sound Immersion
Enter The Portal for a mind-expanding and soul-awakening Sound Immersion.
Refund Policy
Contact the organiser to request a refund.
Eventbrite's fee is nonrefundable.
About this event
Immerse yourself in a powerful sound experience for a mind-expanding and soul-awakening journey.
Merging ancient wisdom with modern science & technology. This Sound Immersion is powered by Neuroscience to help calm your mind, slow down your brainwaves and transport you to altered states of consciousness and deep relaxation.
Guided by Marc Tomkinson, DJ L'espace combines a unique blend of electronic meditative soundscapes with a range of live 432Hz attuned instruments of Crystal Singing Bowls, Tibetan Bowls, Hung Drum, Native American Flutes, Tuning forks and Brainwave Entrainment.
* Suitable for anyone wishing to deepen their awareness, relaxation, meditation or healing practice.
The healing sounds resonate at a cellular level, releasing any energy blockages and creates coherence and harmony. Naturally soothing your mind, body and soul, calming your nervous system and balancing your entire energetic system leaving you feeling completely restored & revitalised on all levels.
- - - - - - - - - - - - - - - - - - - - - -
8/8 LIONS GATE PORTAL
A galactic portal that allows high vibrational energy to be sent to Earth, which we can all tune in and connect with. On August 8, the number of infinity and manifestation, an annual cosmic alignment known as the Lion's Gate occurs. Powerful cosmic and spiritual energy will converge during this time thanks to Sirius, the brightest star in our sky, aligning perfectly with Orion's Belt and the Pyramids of Giza in Egypt. Sirius is the star of abundance, creativity, expansion and manifestation. When it joins forces with the sun in Leo, for whom the portal is named, the energy to manifest, transform, and bring balance to your life is increased exponentially.
In Ancient Egypt, the rising of Sirius coincided with the flooding of the Nile. They viewed this as a gift of prosperity and fertility and revered Sirius so much, they even aligned their pyramids with its rising as well. The zodiac sign of Leo is ruled by the sun, and it, in turn, rules the heart. So, when the sun in Leo aligns with Sirius, the star of devotion, it opens the door to intense love and the awakening of the Divine. The time of the Lion's Gate Portal is a chance to recognise your personal power and begin to allow it to grow.
Elevate your energy vibration
Balance your energy chakras
Increase your ability to manifest
Accelerate Transformation
Purify/Activate your third eye
Activate your DNA
Receive Healing
- - - - - - - - - - - - - - - - - - - - - -
EVIDENCE-BASED HEALTH BENEFITS
Improve mental, physical, emotional, spiritual wellbeing
Boost immune system
Improve sleep quality
Balance your nervous system
Improve mental health/performance
Relieve stress and manage stress more effectively
Revitalise an optimal state of wellbeing and harmony.
Restore your body & mind to their natural coherence.
Accelerate healing and recovery from quantum rejuvenation.
Tune your energy centres/chakras/biofield
Release physical, emotional, mental dis-stress, anxiety, trauma and tension
Deepen states of relaxation & meditation
Purify mental, physical & emotional balance.
Break free from toxic thought patterns, limiting beliefs, negative thinking & trapped emotions.
Increase creativity, clarity & insight.
Manifest your intentions more effectively.
Expand your awareness & rewire your brain.
Experience transcendental states of consciousness.
Feel more energised, calm & balanced
Life-changing realisations/transformations
Maintain more inner peace & harmony in your life
Empower, activate, and awaken your limitless potential.
MEET YOUR FACILITATOR
Master of frequency, Marc Tomkinson is one of Australia's leading sound therapists. A holistic health practitioner, DJ, entrepreneur, multi-instrumentalist, quantum healer and the founder of BuddhaBar Experience.
Pioneering the future of sound healing for over 10 years. Marc creates transformative experiences that combine ancient wellness modalities with world-class entertainment.
Marc has worked with thousands of people, empowering them through his science-based therapy sessions. His live sound journeys are said to be 'sensational, profound & life changing' by the likes of Warner Music, Insight Timer, Mind Body Spirit Festival and Australian Gold Medalist, Woman's Snowboarding - Torah Bright.
Marc's passion and connection with nature, neuroscience, shamanism, spirituality, and mental health are mixed intuitively into the essence of his musical journeys.
Get ready for a deep and profound experience.
https://soundcloud.com/marctomkinson
TESTIMONIALS
" Wow what an experience, I felt like the life force was restored in my body at an astrological level " Torah Bright - Gold Medalist Australian Womens Snowboarding.
" Marc's Immersive Sound Healing was truly incredible - The sound quality and composition were far superior to other sessions I have attended. The sound journey invited me to examine and feel a deeper sense of self, express, and manifest thought, feel emotions and find equilibrium ". Bayley Middleton, Publishing & Community Manager. Insight Timer
" The ultimate relaxation experience ". Six Senses Laamu
" The most mind-blowing musical journey I've ever been on that I wasn't dancing" Tommy Franklin
Amazing experience. You are taken into another dimension and connect with yourself on a deeper level. I was a bit spaced out when I left and definitely recommend experiencing this for yourself." Kara
" I had one of the most amazing experiences I've ever had, it was unreal how the sounds and music led me to a magical journey inside. Thank you so much. You are a healer and it was amazing to feel how you use music as a tool and way, very creative, innovative and talented soul. Thank you once again". Valentina
" Grateful for this experience to delve deeper within ourselves and reach another level of consciousness". Elle
" Loved it. So powerful, I received some beautiful breakthroughs, insights and clarity of my life" I want to do it weekly!! You're amazing - thank you. Startup Creative
"Feeling completely invigorated - I had the best sleep in a long time"
"I came to your meditation and I have not been the same since"
"It was so wonderful and I really feel like a different person now"
"The music was sensational - it takes you on such a journey"
- - - - - - - - - - - - - - - - - - - - -
EXPERIENCE THE POWER OF SOUND HEALING
" If you want to find the secrets of the universe, think in terms of energy, frequency and vibration." - Nikola Tesla.
"There is no MATTER, There is only LIGHT & SOUND" - Albert Einstein.
"If you're in the unkown. And from the unknown, all things are created. You are in the quantum field" - Dr. Joe Dispenza
- - - - - - - - - - - - - - - - - - - - -
Recommended listening with quality headphones or stereo sound system.
Just relax, close your eyes and allow the sounds to take you on a journey.
Prepare a safe & comfortable space.
For best results hydrate well before and after the session.
Prepare and set an intention.
Open Mind & Heart, Expect the Unexpected.
Look forward to sharing this unique experience with you.
Bon Voyage