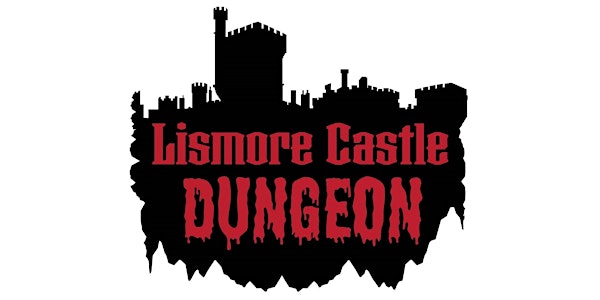 Lismore Castle Dungeon
This Halloween, come and meet the old souls of Lismore Castle...if you're brave enough!
When and where
Location
Lismore Castle Lismore Castle P51 F859 Lismore Ireland
Refund Policy
Contact the organiser to request a refund.
About this event
About this event
Test your bravery as you descend into the Dungeon and meet the old souls of Lismore Castle. Take a trip through more than a millennium of scary history in some never-before-seen parts of Lismore Castle. Prepare to come face-to-face with some of the larger than life characters whose spirits haunt this venerable old building.
Lismore Castle Dungeon is a 360 degree immersive experience involving 24 live actors, 8 themed spaces, one spectacular setting and 1400 years of history. Laugh, scream or cry as you get up close and personal with some rather unsavoury characters...
...but only if you're brave enough.
Age
Please note that this event is for over 18s only and is decidedly not suitable for children. Where ticket-checkers are uncertain as to whether someone is over 18, identification may be sought. Unfortunately, admission may be refused in cases where the ticket-checkers are unsatisfied that someone meets this criterion.
Location
The event takes place at Lismore Castle: Entry to the Castle for the event is via the 'Green Road'. From the public carpark beside the Playpark, our helpers will be on hand to show the way.
Getting there
There is a public carpark at the start of the 'Green Road', which is the most convenient parking for the event. However, as parking is limited in this carpark, we recommend that those who can do so should make their way to the event on foot, if possible. For others, if the carpark is full, we recommend that car drivers park legally on the streets of Lismore and make their way to the event on foot.
From the carpark, the entrance to the event is approximately 400m (a quarter of a mile) along an unsurfaced road, so please wear suitable footwear for walking this road (high heels are not suitable). This walk will take most people about five minutes, so please allow for this, and any time spent parking, when planning your journey to the event.
We strongly encourage punctuality in arriving, as this will help the smooth running of the event and enhance the evening's enjoyment for everyone.
Booking
When booking, please firstly select your preferred date of either Saturday 29th Oct or Sunday 30th October by clicking the 'Tickets' box beside the appropriate date. Then, choose your preferred time-slot and select the number ticket that you would like. This time is your start time; please be at the venue slightly in advance of this time. Your experience will last between 70 and 75 minutes. There's no need to print your tickets if you have a device that can display the electronic version.
Accessibility
Unfortunately, due to the nature of the route through this historic building, this event is suitable only for the able-bodied.
Be aware
The event involves stairs, steps, uneven floors and narrow entrances so a certain amount physical robustness is required. Please wear suitable footwear (high heels are not suitable).
Much of the event takes place in darkness or near darkness. It is not suitable for those who suffer from nyctophobia.
There are some low ceilings and some low doorways to navigate – please mind your head.
Some of the content is unsuitable for those who take offence easily – snowflakes should stay away.
There are no toilets available in the Castle and there are no opportunities for comfort breaks once the event starts.
The event follows a one-way route and there is no opportunity to turn back.
Rules
Smoking, vaping, eating and drinking are not permitted on the event site. No food or drink may be brought into the Castle.
Photography is not permitted during the event.
Torches or other lights may not be used at the event.
Due to the space restrictions at some points of the building, no bags are permitted at the event.
The management reserve the right to refuse admission to, or to remove from the venue, anyone who breaks the rules or whose behaviour is deemed likely to detract from the enjoyment of others.
NO SISSIES.