Little Deviations: Volume 1

Daily Event: 8:00 PM to 10:00 PM (IST)
Event Details
We'll be returning to our birthplace, stomping ground and spiritual home of Cleeres Theatre for two performances only on August 2nd and 3rd at 8pm nightly.
Little Deviations: Volume 1 is a scratch night showcasing five new works in progress that Devious Theatre have been developing over the past year. Each of these new plays will be previewed, tasted, tested, rehearsed, read, sampled and performed, all in 20 minute chunks for your viewing pleasure!
The five plays in question are as follows:
Girls In Africaby John Kennedy. Mary and Sally want to raise money to undertake charity work in Africa. The easy part? Fundraising. The hard part? Surviving Africa. John Morton directs the cast of Hazel Doyle, Adrian Kavanagh and Aoibhín Murphy.
Tenterhooks by John Morton. Eddie Murphy directs Leah Egan and Jack Nolan in this darkly comic fairytale set in a variety of suicide and accident blackspots.
The Union by Adrian Kavanagh. A comedy about missing money and chronic hangovers in a sweltering hot students union. Alex Christle directs the cast of Alan Doyle, Peter McGann and Colin O'Brien.
The Hellfire Squad by Peter McGann & John Morton. Michael Collins wants to set up his own personal hit squad to fight the Brits. But this mission needs some real men. Philip Brennan directs the line up of Richie Cody, Stephen Colfer, Ken McGuire, Niall Morrissey, Annette O'Shea and David Thompson.
Some Flood by John Doran and Kevin Mooney. When a Biblical flood wipes out Ireland, one man takes to his roof to survive. This will be performed and directed by the writers themselves.
We're very excited to have such an outrageously talented team, scratch that, FIVE teams, working on this show! If you've been a fan of our work over the years, you're going to love this. If this is your first time seeing us in action, these are the perfect little starters!
The new plays that make up Little Deviations are works that we hope to produce over the next few years. This will be your first chance to see them performed and it will also prove an invaluable opportunity for the writers to road test the material in front of an audience.
The funds raised from Little Deviations will go towards the making of our new work. Tickets for the shows are €10 and are limited to 120. With only two performances scheduled, this one will sell fast so make sure you get your tickets as quick as possible! Tickets can be purchased in Cleeres Theatre on 056 – 7762573 and booked online at tickets.devioustheatre.com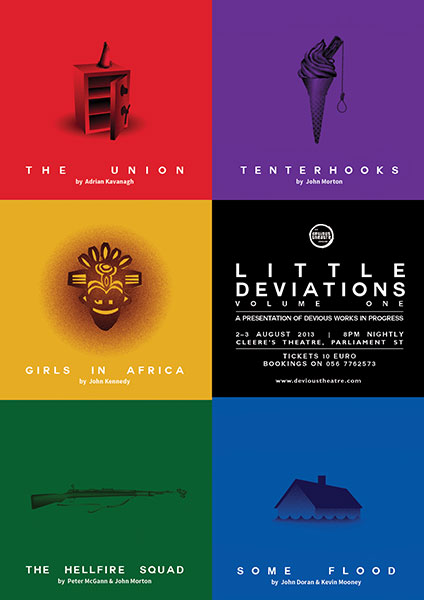 Where

Cleere's Theatre
28 Parliament Street
Kilkenny
Ireland


Daily Event: 8:00 PM to 10:00 PM (IST)
Add to my calendar
Organiser
The Devious Theatre Company have been producing innovative, daring and comedic theatrical productions since 2006.
Previous performances include, Pulled (2016), The Hellfire Squad (2016), Heart Shaped Vinyl (2016), The Union (2015), The Centre Of The Universe (2015), War Of Attrition (2014), Some Flood (2014), War Of Attrition (2013), Little Deviations: Volume 1 (2013), Phantasm (2012), Night Of The Living Dead (2012), bash:latterday plays (2011), Smitten (2011), Shifting (2011), Scratcher (2011), Can't Pay? Won't Pay (2010), Accidental Death of an Anarchist (2009), Shakespeare In Bits (October '09, June '09), Stags and Hens (2009), The War Of The Worlds (2008), Smitten (2008), Trainspotting (2008), Cannibal! The Musical (2007), Heart Shaped Vinyl (2007, 2006).