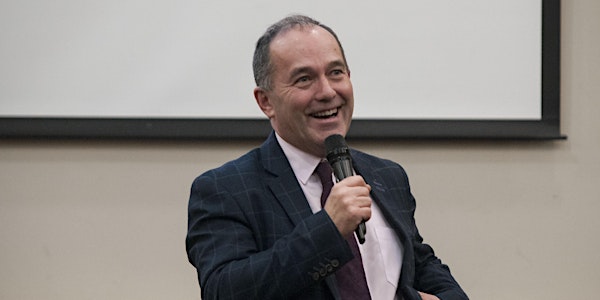 LIVE LIFE WELL - Morning well-being seminar with Shane Martin (in-person)
MORNING WELL-BEING SEMINAR WITH SHANE MARTIN at the MELLON COUNTRY INN on the 25th JUNE 9.30 a.m. -1.00 p.m.(In-person and not on Zoom)
When and where
Location
Mellon Country Hotel 134 Beltany Road Omagh BT78 5RA United Kingdom
Refund Policy
Refunds up to 7 days before event
About this event
MORNING WELLBEING SEMINAR WITH SHANE MARTIN at the MELLON COUNTRY HOTEL 9.30 a.m. -1.00 p.m. (in-person event - not on Zoom)
INTIMATE VENUE. LIMITED CAPACITY. BOOK NOW
Total cost €65 (sterling equivalent when processed)
The LIVE LIFE WELL seminar provides people with an opportunity to create a space for themselves to get away from their daily stresses and strains. Participants will have an opportunity to reflect on their lives and learn what science has uncovered about becoming healthier, happier and more resilient. The focus will be on simple yet powerful practices to enhance the quality of your life.
The LIVE LIFE WELL seminar contains the best material that Shane teaches condensed into a single morning. The no nonsense practical ideas from his best selling book 'Your Precious Life-How to Live it Well' will be delivered in his customary animated and humourous style. 
The seminar will not intrude on anyone's privacy. There will be some discussion but no one will feel under pressure to talk. It is important to know that the seminar is for the general public and why people attend remains their own business. Often people working within the health or education professions attend for professional reasons. Sometimes an interest in psychology draws people to these events. However, most people attend because they want to take time-out from a busy life schedule to learn simple evidence-based strategies linked to a better quality of life.
The seminar costs €65 (converts to sterling equivalent when processed)
The timetable for the day is as follows:
09.00 a.m. Registration
09.30-11.00 a.m. THE PANDEMIC HANGOVER -  An opportunity for psychologica and spirituall renewal
This pandemic has tested people like nothing that we have ever experienced before. Our world has changed forever. Despite the success of the vaccination programme there is a prevailing sense of insecurity affecting many people even at a subconscious level. Many people sense exhaustion and frustration. We cannot just press the 'reset' button. We cannot just plug back in as if nothing ever happened. The truth is that we can only learn from life experiences by reflecting on them. There is now an opportunity to reflect, to renew, to reconnect - to refreshen our approach to living. Every disruption is a period of potential growth.
In this session Shane will explore the psychological consequences of this pandemic and suggest how we can learn from the experience and achieve a better quality of life.
11.00 -11.15 Tea/coffee break
11.15-13.00 LIVING LIFE WELL: How to Enhance the Quality of Lives: 
Essentially, Shane introduces you to evidence-based strategies linked to greater health and happiness. This is an opportunity to step outside the circle, remove yourself from the 'noise' of life and consider the most important things and how we can achieve them.The hope is that the material will uplift and inspire change in your life but even more importantly inspire you to incorporate it into your home, workplace and community.