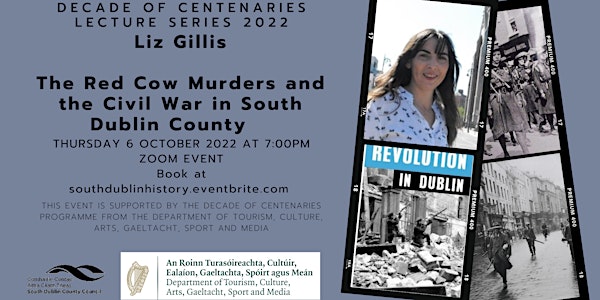 Live Stream Ticket :The Red Cow Murders and the Civil War in South Dublin
Online Lecture with Clondalkin Library.
About this event
On the hundredth anniversary of these events, join historian Liz Gillis for a discussion of one of the most shocking episodes in the Civil War in South Dublin County.
This is a hybrid event which will be held in person at Clondalkin Library and will also be streamed live on Zoom.
This listing is for tickets for the Zoom live stream. To attend the talk in person at Clondalkin Library, go to: https://www.eventbrite.ie/e/in-person-ticket-the-red-cow-murders-and-the-civil-war-in-south-dublin-tickets-409848727577
Liz Gillis is the Historian-in-Residence for South Dublin County Council. She has a degree in Modern Irish History and specialises in the Irish Revolutionary period She is the author of several books including Revolution in Dublin: A Photographic History 1916-1923, Women of the Irish Revolution, and May 25: Burning of the Custom House 1921. She was the recipient of the Dublin City Lord Mayor's Award in 2018 for her contribution to history .