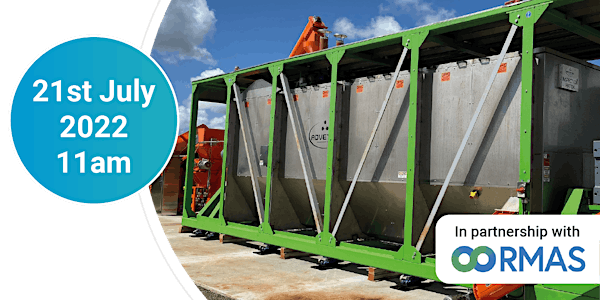 Live video demonstration of the Advetec XO machine with Q&A
Live video demonstration of the Advetec XO machine with Q&A session with the leadership team
About this event
Seeing is believing - the biotechnology company Advetec is opening the doors to its workshop.
At a time of financial uncertainty, it is important to look for new ways to cut and stabilize operational costs. Advetec will be opening its doors to demonstrate during a live video stream how they can reduce waste mass by 50%, turning it into Solid Recovered Fuel (SRF).
Richard Goff, the Chief Operations Officer, will be showing three XO machines XO3, XO6 and the biggest XO22, capable of multi-machine-configuration. Through a live video stream, he will demonstrate how the machines process the mixed residual waste and halve its tonnage. He'll walk through the design and robust engineering it takes to build a machine that goes through large volumes of waste in most remote locations.
The live video tour will be followed by a Q&A with Jim Lovett, CEO, Dr Stephen Wise, Chief Strategic Development Officer and Lee Knott, Chief Commercial Officer. They will be answering questions from the audience and talking about the waste landscape.
Why is this a unique event?
It isn't every day that we can see live how an industrial-scale digestor machine is built and have an opportunity to speak directly to the team behind it.
The company trades around the world, with their biggest clients in USA and UK. Recently they've entered the Irish waste market, winning a contract for their XO22 machine.
The live stream tour is an opportunity to see the machines and ask questions, make sure to save your spot.
This event is organised by Advetec Holdings Ltd in partnership with the Resource Management Association Scotland (RMAS).
The Resource Management Association Scotland (RMAS) is a not-for-profit, non-political membership organisation for micro, small and medium sized resource management companies operating in Scotland. Their aim is to provide a voice, a network and a forum for members to keep well informed. The group also ensure that priority issues, risks, and opportunities are communicated, and represented effectively to Government, its various agencies, the commercial sector and the public. SMEs wishing to become part of the organisation or find out more information can do son by going to the RMAS website (www.rmascotland.org.uk) or by emailing: info@rmascotland.co.uk.