Living with Dementia in a Pandemic - How Health Care Professionals Can Help
Expert panel discussion on the challenges faced by people living with dementia in a pandemic and how health care professionals can help
Date and time
Fri, 25 Sep 2020 02:30 - 03:30 PDT
About this event
As part of World Alzheimer's Month, an annual international campaign aimed at raising awareness and generating solutions for people living with dementia, Home Instead is hosting a Webinar for Health Care Professionals on Friday, September 25, 2020, from 10.30-11.30am.
The Webinar will explore the challenges faced by people living with dementia during the ongoing pandemic, such as their understanding of Covid-19, staying safe, and dealing with the closure of services such as day care centres.
Agenda includes:
Prof Seán Kennelly, Geriatrician at TUH, on dementia and the impact of Covid-19 and its accompanying impact on brain health.
Bernie Byrne, Home Instead Dementia Champion, speaks with Teena Gates, Broadcaster and Family Carer, on how Covid-19 has impacted Teena's father's life.
Dr. Muiris Houston, Medical Writer and Health Analyst, on how Covid-19 has increased risks of falls, malnutrition and risk of hospitalisation.
Sinéad Grennan, CEO at Engaging Dementia, on the importance of social connectedness and meaningful activities in the home, as public health restrictions continue to severely limit social support services.
Tony O'Brien, former Director General of the HSE, will Chair the Webinar and a panel discussion, fielding audience's questions to speakers.
Attendees can expect an engaging and informative session aimed at exploring positive solutions and ideas which can be valuable to health care professionals, family carers and above all people living with dementia in a very uncertain time for health care services.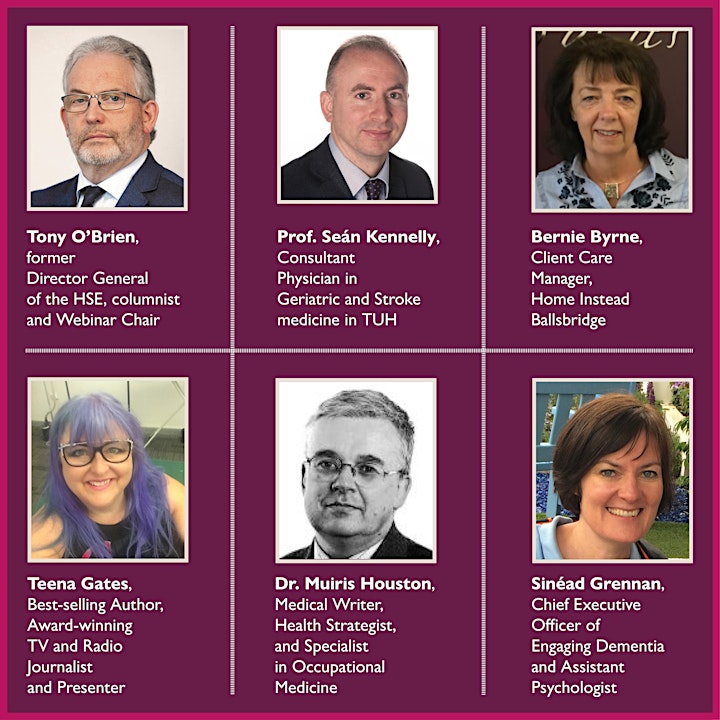 About the organiser
Since 2005, the Home Instead Senior Care (HISC) franchise network in Ireland has been enhancing the lives of older people and their families. They provide specialist Alzheimer's and Dementia Care as well as other important care services like companionship. For more information on Home Instead Senior Care in Ireland, visit www.homeinstead.ie