The Shaking Bog presents Liz Berry and Paddy Glackin
About this event
"Until I felt it at last the rush of squall thrilling my wing and I knew my voice was no longer words but song black upon black. I raised my throat to the windand this is what I sang . . ."- Liz Berry, Bird
Liz Berry is an astonishing poet who has the ability to stop you in your tracks when she speaks the words of her poems, drawing on the dialect of the 'Black Country', her native West Midlands. A warm and true poet who describes the folkloric dimensions of nature and place with vivid observation. For The Shaking Bog, she is joined by renowned Irish fiddle player Paddy Glackin for a delicately interwoven performance of poetry and music.
Liz Berry's extraordinary first book of poems, Black Country (Chatto 2014), described as a 'sooty, soaring hymn to her native West Midlands' (Guardian) garnered a Poetry Book Society Recommendation, received a Somerset Maugham Award and won the Geoffrey Faber Memorial Award and Forward Prize for Best First Collection 2014. Liz's pamphlet The Republic of Motherhood (Chatto, 2018) was a Poetry Book Society Pamphlet Choice and the title poem won the Forward Prize for Best Single Poem 2018.
Paddy Glackin is a founding member of The Bothy Band and is one of Ireland's leading traditional fiddle players.
"Berry's writing often seems curiously intent on conjuring a kind of spiritual transcendence."
- The Guardian, 2014
"Ecstatic, quicksilver poems, ablaze with originality, curiosity and a passion for words."
- Ruth Padel
Powerscourt St Patrick's Church (Enniskerry) is a fully accessible venue.
In light of the recent government announcement, no indoor events are permitted without a vaccine check. As this event is taking place inside St Patrick's Church and inline with these guidelines, patrons can only attend the event with proof of immunity (vaccinated or recovered) in the form of a vaccine certificate.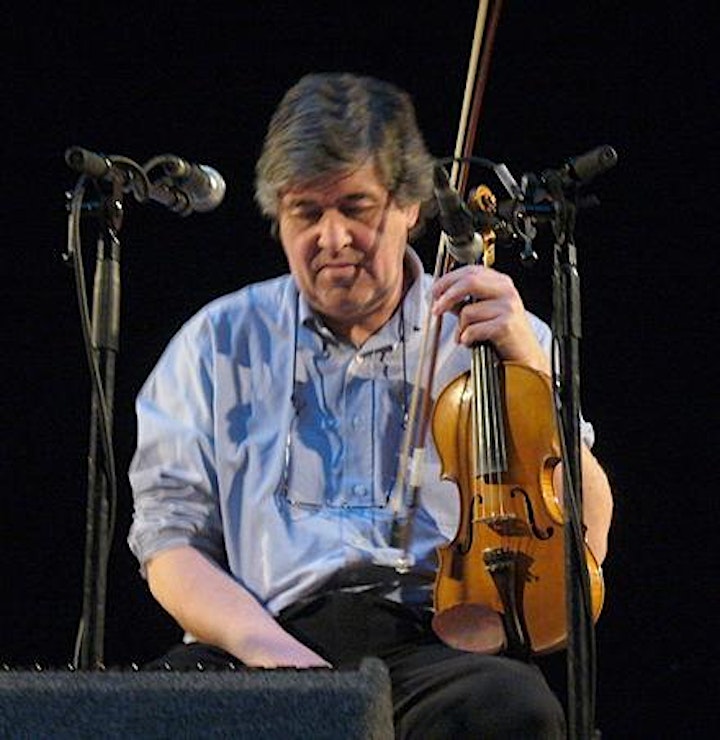 Organiser of Liz Berry and Paddy Glackin
Tickets will be limited due to government restrictions so book your place early to avoid disappointment.
There are more events this year and most events will be available through live stream and view on demand. A chance for everyone to enjoy the festival.
Find more information check out our website, sign up to our mailing list and, follow us @theshakingbog across social media channels.
To become a friend of the festival, see our website www.shakingbog.ie for more information.
Due to the nature and location of certain venues, levels of accessibility vary greatly. Please prepare according to the location information. Check our website for further information.
COVID-19 Ticketing & Events:
All tickets (Including complimentary) must be purchased online in advance. These will be limited to a maximum capacity of 50 and in some venues less based on the physical-distancing capacity analysis. The 2021 festival has more events than the first year and
Tickets will be sold in pods of 1-4 to facilitate fairness and capacities.
Some events may be cancelled at late notice due to circumstances beyond our control relating to the COVID- 19 pandemic.
For safety, waiting times pre-show will be limited and no latecomers will be admitted. Please arrive no earlier than 30 and no fewer than 15 minutes before show time.
Bathrooms may not be available for use at every venue.
Customers will be required to wear a face-covering at all events, with exception to children under the age of 16, customers with breathing difficulties, customers with illnesses or impairments which would make the wearing or removal of a face-covering upsetting or uncomfortable.
Due to government guidelines on Family and social gatherings, tickets for some events are sold in groups of tickets designated for customers of the same household or social bubble.
The Shaking Bog Festival requires that an up-to-date contact number is provided when purchasing ticket(s) to the festival, in order to assist authorities with contact tracing in the event that a confirmed case of Covid-19 arises. This will be shared with our partner venues for the sole purpose of adhering to HSE guidelines on contract tracing and kept on file for 28 days..
Account holders purchasing tickets assume responsibility as point of contact for all attendees within their booking.
To attend digital events, you will need access to a computer or device, stable internet connection. Details on joining digital events will be shared by email in advance of the event.
Individuals experiencing COVID-19 symptoms should not attend events.
All sales are final. No refunds or exchanges. Transaction fees are included in the price.
The Shaking Bog Festival reserves the right to make alterations to the programme without notice and cannot be held accountable for cancellations, substitutions or changes.

COVID-19:
Infection with the virus that causes COVID-19 can cause illness, ranging from mild to severe, and, in some cases, can be fatal. It can take anything from 2 days up to 14 days for symptoms of coronavirus to appear. They can be similar to the symptoms of cold and flu.
Common symptoms of coronavirus include:
A fever (high temperature - 38 degrees Celsius or above).
A cough - this can be any kind of cough, not just dry.
Shortness of breath or breathing difficulties.
Loss or change to your sense of smell / taste.
Attendees are required to confirm they will not attend if they:
Have symptoms of COVID-19.
Are self-isolating or restricting their movements.
Are waiting for the results of a COVID-19 test.
Have recently returned from traveling abroad as per government guidelines.
Weather Advice – Please come prepared for all weather and wear appropriate footwear.
Midgie Alert – Midgies in the Glencree Valley are plentiful, especially on cloudy days and in the evenings. Please come prepared with long trousers, sleeves, hats (even nets) and insect repellent. All our volunteers will be carrying a nature friendly insect repellent, so please feel free to ask for some.

Food – There will be light refreshments available at most locations but you are also welcome to bring picnics or stop for food in Enniskerry Village..

Keeping it Green – This festival is all about celebrating nature so please respect the landscape and outdoor locations at all times. Please be careful of waste – use reusable water bottles where possible and dispose of your rubbish responsibly.
The nature trails will not be suitable for everyone, please wear appropriate footwear for walking in nature and uneven surfaces.