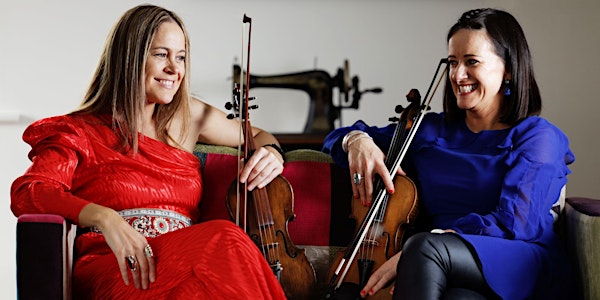 Liz & Yvonne Kane with John Blake -'In Memory of Paddy Fahy' - Concert
A special opportunity to witness the music of Paddy Fahy performed by its greatest exponents on fiddle - Liz & Yvonne Kane, with John Blake.
When and where
Location
Oriel Centre, Dundalk Gaol St. Dominics Place Carrickmacross Rd Dundalk Ireland
About this event
From North Connemara, Liz and Yvonne Kane, known as The Kane Sisters, are much respected musicians and educators. Born in Letterfrack, they were educated in Kylemore Abbey School. They were taught music by the great Sligo musician and music teacher, Mary Finn and by their grandfather, Jimmy Mullen.
From a young age, they have been very influenced by the traditional music of Sligo and East Galway, in particular the music of the master composer and fiddle player Paddy Fahey. Liz and Yvonne first came to national and international prominence during the three year period in which they toured with accordion player, Sharon Shannon as members of her band, The Woodchoppers. They travelled all over the world with her band and are featured artists on Sharon's album 'The Diamond Mountain Sessions'. At that time, a Hot Press review by Siobhan Long confirmed '...while 'Fire in their Bellies' (with Liz and Yvonne Kane) is ensemble playing at its best and most naked.'
Following this period of touring with Sharon Shannon, they decided to embark musically on their own and they recorded their first album in 2002 entitled 'The Well Tempered Bow'. The Kane Sisters toured Ireland and the United States following the release of their first album and they followed up with a second album 'Under the Diamond' in 2004 and third album in 2010 called 'Side by side'.
In 2022 they release their fourth album 'In Memory of Paddy Fahey' featuring 15 of his compositions as well as newly written tunes from both Liz and Yvonne.
Liz and Yvonne also guested on a number of albums:
*The Diamond Mountain Sessions - Sharon Shannon (2000) Recorded in the Monastery Hostel in Letterfrack, Galway along with Donal Lunny, Carlos Nunez, Steve Earle, John Prine, Mary Staunton, Jackson Browne, The Hothouse Flowers and Dessie O'Halloran (Liz and Yvonne)
*The Fiddler Fair - compilation from Fiddle festival Mc Carthy's pub Baltimore, Cork (2000) (Liz and Yvonnne)
*Behind the Mist - compilation of musicians who have been part of the Bog and Sea Week festivals in Letterfrack over the last fifteen years. (2000) (Liz and Yvonne)
*Idir Dhá Solas - Maighread and Tríona ní Dhomnaill (2000) (Liz and Yvonne)
*Providence - Providence (1999) (Liz)
*Transcendental Blues - Steve Earle (2000)(Liz and Yvonne)
*The Girls won't leave the Boys Alone - Cherish the Ladies (2000) (Yvonne)
*Memories from the Holla - Peter and Angelina Carberry (2001) (Liz)
*The Pound Road - Dessie O'Halloran (2001) (Liz and Yvonne)
*Mná na hÉireann (Liz and Yvonne)
This event is funded by the Department of Tourism, Culture, Arts Gaeltacht, Sports and Media and supported by Louth County Council through the Live Performance Scheme 2022