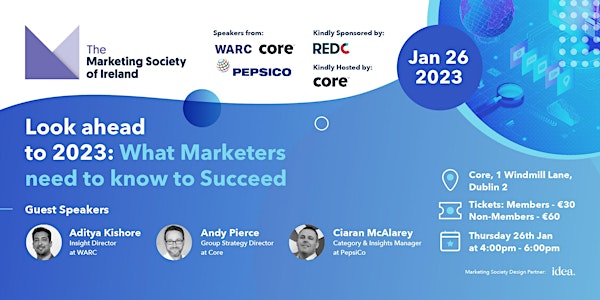 Look ahead to 2023 – What Marketers need to know to Succeed
This session will focus on their Global Trends Report, which identifies the five most important market trends that marketers should focus on
By Marketing Society of Ireland
Date and time
Thu, 26 Jan 2023 16:00 - 18:00 GMT
Location
1 Windmill Lane Core HQ 1 Windmill Lane D02 F206 Docklands Ireland
About this event
Join us on Thursday 26th January from 4-6pm for our first event of 2023 where our keynote speaker Aditya Kishore, Insight Director at WARC, one of the world's foremost authorities on marketing effectiveness, will bring us through the WARC 2023 Marketing Toolkit.  
This session will focus on their Global Trends Report, which identifies the five most important market trends that marketers should focus on to help drive their business in the year ahead namely:
Marketing in a cost of living crisis: 
Price vs. planet: a false dichotomy:
A reckoning for Big Tech: 
The clash of demand, delivery and disruption: 
The era of 'bubble up' culture: 
Joining Aditya on the stage will be Andy Pierce, Group Strategy Director at Core who will talk to us about advertising in Ireland in 2023, what will be different for brands and what all marketers should consider when developing effective campaigns.  
Our third speaker Ciaran McAlarey, Category & Insights Manager at PepsiCo. will take a closer look at the consumer trends now facing Irish Marketers and, using insight generated by Pepsico, he will share with us how these trends have influenced Pepsico's strategy in the Irish marketplace.
About the organiser
The Marketing Society of Ireland is a central hub for our members, creating a culture for smart marketers to be better equipped and prepared to succeed in today's business world. We achieve this through three key pillars of the Society.
Thought Leadership
We bring leading marketing experts from Ireland and international markets to our members to discuss and debate the challenges that marketing faces in Ireland.
Exchange of Ideas
Networking is at the heart of our organisation; something that our membership value highly within the Society. In our ever busier working lives, the opportunity to interact with our friends and colleagues in marketing is a vital element of nourishing ourselves and our skills. Each event that we run has specific times to interact, reflect and catch up. From the blackberry break to specific discussion our emphasis is on interaction and sharing.
Applied Knowledge
Our aim to ensure that the value we provide to our members is anchored in applied thinking. Whilst we will challenge our members with the best current thinking in marketing, it always has relevance and application to the day to day work of our members.
'The Marketing Society provides a forum to keep marketing professionals up-to-date with developments in marketing and market research. Founded in 1970, The Marketing Society of Ireland draws its expertise from the full spectrum of marketing disciplines reflected in its membership. The society is charged with the task of fostering the highest standards in marketing, providing a networking forum and keeping its members up to date with the latest applied thinking in marketing'
Events
The Marketing Society host events with photographers and videographers present.  We encourage photographs and videos to capture and promote our events. ​ If you wish to have a copy of the photograph, please contact us.  If at any time you do not wish your photograph or a video of you to be kept or promoted, please let us know at info@marketingsociety.ie