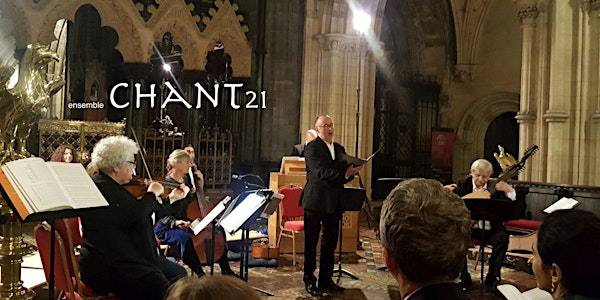 LOVE is in the air CONCERT - Charming BAROQUE Music
When and where
Location
National Botanic Gardens Glasnevin D09 VY63 Dublin 9 Ireland
Description
'Love's but the frailty of the mind…' Chamber Music Trio 'Chant 21' with Eileen Coyle • soprano, Jacek Wislocki • tenor, and Jerzy Zak - lute are back in the Botanic Gardens with a charming concert of 17th C music. Join us for this wonderful musical delight and listen to a selection of most enchanting love duets and virtuoso arias by Italian and English masters of the Baroque era.
In the programme: an unique occasion to hear the operatic masterpiece 'Pur ti miro' duet from C. MONTEVERDI'S 'Coronation of Poppea', compositions by Henry PURCELL , John BLOW and more...


Programme:
Italian love
Pierre GAUTIER (1599 - po 1638)
Prelude / Sinfonie fugue / Allemande / Courante / Sarabande — lute solo
(Les Oeuvres­­…, Rome 1638)
Giovanni Felice SANCES (c1600 - 1679)
Lilla bell'e crudele − Dialogo amoroso (Cantade, 1633)
Girolamo FRESCOBALDI (1583-1643)
Se m'amate, io v'adoro. Madrigale a due voci (Arie musicali, 1630)
Dove, dove ne vai pensiero. Canzone a due voci (Arie musicali, 1630)
Claudio MONTEVERDI (1567-1643)
Bel Pastor (Madrigale e Canzoni, Libro Nono) — duet / 4'30''
Pur ti miro (from L'Incoronazione di Poppea [by Benedetto Ferrari??])
English love
François DUFAUT (before 1604 - London, before 1672)
Prelude / Pavane / Courante / Sarabande
William CORKINE (fl 1610–17)
Come live with me, and be my love (1612)
Robert JOHNSON (ok.1583 - 1633)
Tell me, dearest, what is love (The Captain)
Henry LAWES (1596 - 1662)
Dialogue on a kiss
Jakob KREMBERG (Warsaw, ca.1650 - London, 1715)
A Comical Dialogue Between a Coachman and his Wife
from A New-Framed Entertainment (operatic scenes for a lost play, London)
Henry PURCELL (1659 - 1695)
Man, Man, Man (a Song in the Mock-Mariage)
John BLOW (Newark, 1648/9 - London, 1708)
A two-part Song: "When artists hit on lucky thoughts"
(On the Excellency of Mrs Hunt's Voice, and Manner of Singing)
FAQs
Is it ok if the name on my ticket or registration doesn't match the person who attends?
Yes
Is my registration fee or ticket transferrable?
Yes
What are my transport/parking options for getting to and from the event?
Free parking in the Botanic Gardens